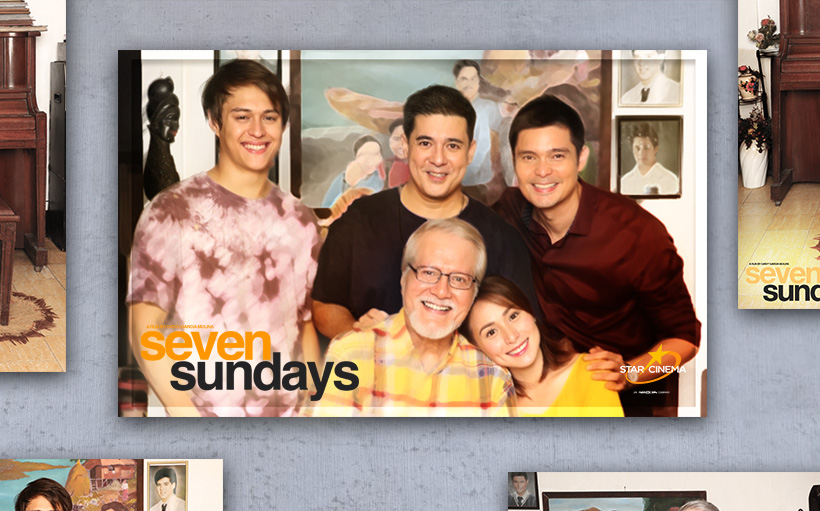 A PERFECTLY IMPERFECT FAMILY
FILM REVIEW ON SEVEN SUNDAYS
By Meanne M. Mijares
SEVEN SUNDAYS
Starring Ronaldo Valdez (Manuel Bonifacio), Enrique Gil (Dex), Cristine Reyes (Cha), Dingdong Dantes (Bryan) and Aga Muhlach (Allan)
Directed by Cathy Garcia-Molina
Produced by Star Cinema
I am fond of good and heartwarming stories about family-whether in book form, theatrical adaptations, musicals and films. One of my favorite past times is watching quality films and Seven Sundays is certainly one of them for it delves deeper connections that are opulently gratifying and fulfilling. I was excited because the movie trailer immediately got my attention with the all-star grouping of actors with fine histrionic chops that were gathered for this film project. No actor upstages his fellow actors in here, they had their own defining and shining moments in the film. Now that I have already seen the movie, I am giving full positive credit to the director and scriptwriter for this exceptional, intensely motivated masterpiece forming results that really made this film even more unique than it already was on a fat gray matter.
Since we Filipinos are family oriented, the story tugs right at the heart strings because it is about love in the family. It is about Manuel, a father who is dying of lung cancer and asks his four children to spend seven Sundays with him before passing on. The four Bonifacio siblings Allan, Bryan, Cha and Dex with families of their own and leading and living their own lives, come together to spend seven Sundays with their beloved patriarch and tried their best to set aside their issues and differences with each other.
But as the story went along, they were able to patch things up for real as they help support one another's problems most especially when the father bridges the gap between Allan and Bryan to save the family store from financial breakdown and restore to the grandeur that it was to keep the legacy alive and relevant to the times. What the head of family said struck me: "Gusto kong nagtutulungan kayong magkakapatid."
The exchange of dialogue in every scene was filled with true to life emotionally charged statements and sentiments interwoven through the various stories (or subplots) of the film's lead protagonists.
This one said by Allan in one scene with his eldest son, Marc is my favorite:
Allan: "Kung naging mabuting kuya ako sa mga kapatid ko, hindi sana ito nangyayari."
Marc: "Pero Dad, hindi pa naman huli para makabawi kayo sa kanila, diba?"
Allan: "Oo naman."
We all have families, which is why the story connects and resonates very well with the movie goers. It is rich in experiences that the major characters went through and able to resolve them that somewhat inspires people that no one is alone or left behind because they have a family to back them up. In a world that is complex and broken, you have no one but God through your family. That is why God created families. He is a part of a Family, the Holy Trinity the Father, the Son and the Holy Spirit and the Blessed Virgin Mary with her spouse Saint Joseph.
The family has such power because it is bonded by love, and this is why the family accepts and forgives many times and stands through the test of time. It just came to me that maybe the film's title is Seven Sundays, reminds me of the Lord's answer to Saint Peter's question on how to forgive, which is, seventy times seven times. Without it, there would be no healing. The family may be tried and tested in rough and turbulent waters but will remain strong and united as they face it together head on, game on.
Since members of the family have different quirks and personalities, it still manages to reach out to one another to co-exist peacefully and harmoniously despite being imperfect but that is what makes families special because those imperfections and frivolities are the ones that endear themselves to one another, to help, empower, respect and support each other. Sometimes we need to disconnect in order to reconnect and rebuild family ties and come out stronger because of it. The film proves this saying: Ang magkapatid, magaway at magkagalit man magkakabati at magkakampi pa rin sa bandang huli. No one can ever take that away!
The films aptly states that love is spelled as T-I-M-E. Quality time well spent with one another! One of the scenes I find very touching is that when they all headed to the beach and read letters addressed to the patriarch, those that he had not read because he was away from them at the time all tucked inside a large biscuit tin can. I like this scene a lot because it is a bonding activity that is worth doing to forge stronger family ties and connections that are gratifying. I like the balance of the use of social media here as well. Not all too far or too near.
We need not wait for a tragedy or death to happen to be united through force or love or get our act together. The best time is always N-O-W! This film will make you go hug and kiss your loved ones and say I love you to them in our own special way, every day.
What I like about this film is the "bali" to it. Typical of a Filipino film, I suppose. It shows that we are a happy and resilient people. Its final scene at the ABCD's Family Store, sees a complete chunky unwieldy dance showdown between the Bonifacio family and Mr. Kim with his cohorts, made me felt uneasy and uncomfortable given the intensity of drama prior to it but I presume it is there to end the story on a positive note.
Quoting the patriarch in the film, I rate it as ALL GOOD!