FOR THE SAKE of the guest speaker, a foreigner fluent in Tagalog, PPC Chair Ate Mel Elido welcomed the audience in the dialect, underscoring the 30 days that are left (it was the 25th of November) before Christmas. Then Ate Minnie Dacanay, Ministry of the Word (MOW) head, introduced Argentinian priest Luciano Felloni in the same vein. He is the parish priest of Our Lady of Lourdes Parish in Caloocan City, tucked his degree in Theology in 2000, was ordained a priest in Argentina later and, for the past 17 years, had been serving the Holy Order in the Philippines. His latest achievement is a Catholic Mass Media Award (CMMA) for Best Male Social Influencer through his daily live streaming of Almusalita, a Gospel breakfast.
I heard an audible aside in my back that the priest had put on blessed, becoming pounds.
This was my first time to see and hear him up close. As direct, personal and purposeful as his daily sermons, he was briefly on the podium as soon as it was vacated. His first volley was, "Pinaka-apurado ang mga Pinoy, wala pang Christ the King, Advent na!"(Filipinos are most hasty, it is not yet Christ the King, it's Avent already!) as he introduced his talk as about waiting and preparation or how to wait for healing, a miracle, a job, to pass an exam, visa approval, for husband to change (or die, which elicited loud laughter) or getting pregnant. Waiting, he said, is part of our lives as Christians and he aimed at us wanting to meditate on that because, if we do not, we are waiting to die, a wish that may be granted anytime. The stifled snickers were serious, if not solemn. He hit home.
Before speaking of the four Sunday Gospels, he asked if we brought a bible with us. The audible silence shouted an undeniable negative. Which he aptly described, "Katoliko talaga kayo!" (You really are Catholic!) The laughter was electric.
He preambled the first Sunday Gospel with a story on waiting. There was this family whose lola (grandmother) cooked a special meal of mushrooms which everybody enjoyed. While they were eating and talking, the cat jumped to the table to partake of the viand. Seconds later it was meowing and writhing as if in pain. Then all of them felt pain, were taken to the hospital, checked, found nothing wrong and sent home. Arriving, they realized the cat had given birth. The moral, Fr. Luciano said, is not all pain kills because some are pregnant. The first Sunday Gospel talks about just that, getting ready because not all suffering is bad. 
Be alert! is the Gospel's message (Mark 13:33-37). And not nganga (slack-jawed) if we have no bible because we can wait and watch out for the coming of Christ who loves us very much and is one of the beautiful things in life. We don't know the time of His coming because we don't know everything even if we think we do. Fr. Felloni has the humility to admit what he doesn't know if he didn't know it. He says hindi ko alam (I don't know) and he is not laging tama (always right), unlike those who o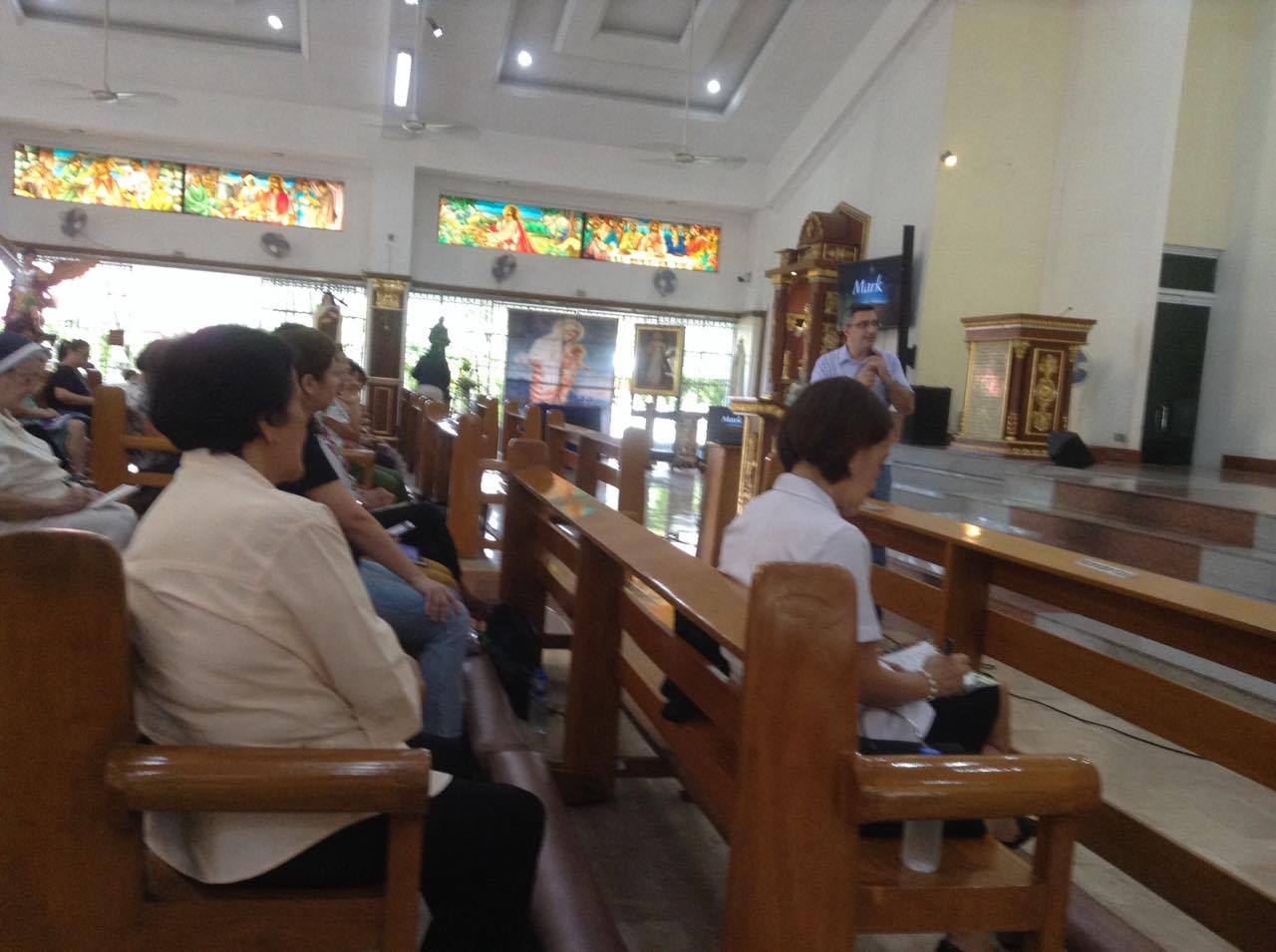 verrule any explanation by being laging tama  because, he said rapidly, pag lagi kang tama, may tama ka! (if you are always right, something's wrong with you) He already owned the audience here. So did not bask in the approbation but continued saying that we are either always right or blind, a hypocrite or stupid. He claimed that pumalpak ako (I erred), but if he insisted instead of admitted the wrong, maluwang turnilyo ko (my screw is loose). We have to be watchful because we don't know, and the more we don't know, the more asleep we will become because we are relaxed. He told of his pet dog who was very good and didn't mind the traffic of cars that ply the road across their house. But when he drives up, he is there waiting because he knows the sound and smell of him and his car. We should all try to recognize God like dog (my mind noted the second occasion I came across the palindromic words). As he recalled 21-year-old Jessica, who died of aneurysm while in a performance and whose mother recognized the Lord passing by because of the many people Jessica had touched who came to her wake. The Lord, he said, measures our lives by intensity, not by length. We don't know is the keyword, so we bite our tongue the next time we say we know it all. He added that if he knew it all, he's done for. Instead, he enjoined us to stay awake, because we are trusted; we are in charge because of God's trust, who knows everything and, best of all, trusts us, a beautiful feeling.
The second Sunday's Gospel (Mark 1:1-8) is the beginning of the Good News. God was sending His messenger ahead of Him. Every good news has a beginning and encourages us to be a start of good news to someone. Here, he relayed how his Almusalita came into being. It was in 2016, in Cebu, where a journalist from Rappler (who has heard him) approached him complimenting his Tagalog and wondering why he hasn't made a video of his evangelizing. He was taken aback and asked the journalist why. The journo was ready with his confident answer: "Because, of the many Filipinos able to do it, no one has dared. And equally many are those who are hungry for the Word." The memory stayed in the priest's mind and, curious, he googled pagninilay in Tagalog – wala nga! (meditation in Tagalog – nothing indeed!) He answered his Bakit ako? (Why me?) with Bakit hindi! (Why not!) And on January 3, 2016, he did his very first video, short per the journalist's suggestion. Since February 2016, he has had 92 thousand followers. His audience comprises mostly of overseas workers in Saudi Arabia. He is not a techie so his utak matanda (old brain) was amazed to discover that he could do it using his smart cellphone and then post on facebook, which 10 thousand viewers watch every Sunday. The facebook posting was necessitated by OFWs with no day off. Thus was how small the beginning of good news happened to him. He assured his audience that God will take care of us and make us grow, but we have to make the start, which is the logic of the Gospel, that keeps going back to Jesus, nothing about Christmas yet but has to do with John. "Are you bringing good news?" he asked us.
He recalled his assignment in Payatas, which was a wrong preparation. The government was bulldozing the road to obviously improve it but the process transformed it into moon craters, the paving decaying after a while, a palliative superficiality, like Christmas charity, which comes and goes seasonally. If it were up to him, he would outlaw gift-giving but start a daily clinic with volunteers, not only in December but all year round. Which is doing something beyond Christmas, where hunger keeps staved off, in a concrete, not transient, way. He said giftgiving is tukso (temptation), difficult to sustain in lean months, so urged us to not fall in the temporary trap that does not change the situation. It is the same, he said, with forgiving and reconciliation, or Simbang Gabi (Dawn Mass, and he challenged us to plumb his profundity by not explaining) because Advent calls us to go deeper, harder and make our preparation more difficult. And more worth it, I added to myself.
John heard His voice in the desert which echoed two concrete things in Fr. Felloni's mind: bible and adoration chapel, a desert to get away from the daily grind; the province with mountains and pockets of silence, to bring the bible to, read and reflect on the Word. Prepare the way, he declared. Do it in the desert; confess and repent and forgive. Otherwise, forget peace.
He told a story that, before his Mom died of cancer six years ago, his aunt informed her his Tito Eduardo wants to talk to her (What Tito Eduardo where? was his incredulous retort). It was a tale of infidelity and hurt which ended happily because blood made his uncle and him look-alikes. And, long story short, after an iyakan recalling 60 silent years in a three-hour conversation, his Mom died, broke the chain of unforgiveness and got rid of her ampalaya (bitter gourd) nature. He disclaimed telling us to die after doing this, but to move on without bitterness, because our soul is wise and won't leave if it's not ready, for the call of preparation, of peace.
Third Sunday's John (1:6-8; 19-28) was humbled enough to withdraw the claim that he is not the light but its messenger. The priest's next volleys roused many amusingly and probably raised the hackles of those who felt being alluded to (even if the priest advanced an apology). He said: "Maraming tao sa simbahan, komo may posisyon, ang laki ng ulo, pag binigyan mo ng  susi, akala nila sila si San Pedro  (Many church people, because they have a position, get swell-headed, when you give them the key, they think they are St. Peter). I knew he was referring to a wrong sense of entitlement, which people self-righteously possess, in or out of the church). He warned us not feel like the Messiah, like John was tempted because Christ queued up to be baptized by him! I could hear UtoLiza's laughter above my very loud one it was difficult to discern where the inaudible ouches were coming from.
He had two experiences which swelled
his head. When he was a priest in Payatas, someone told him ang dami nagsisimba dahil sa yo, kahit tulog, dahil ang ganda ng homily mo (many come to church because of you, even those asleep, because your homily is beautiful). Even if he muttered sipsip (sycophant) to himself, he believed the man. The flattery preoccupied him until he went back to Argentina, worrying that the attendance at Mass might dwindle. Then he suffered a massive heart attack which paralyzed him and required therapy for him to walk again. After six months of recuperation, he discovered that the number of parishioners in Payatas did not diminish, at least not on his account, and he realized he was not the light and should stop believing he impressed people. From then onwards, he became who he is and allowed God to work through him. 
His other story of church leaders involved a mother in Makati who asked him to wed her daughter to an American guy. Because he was not wearing a clerical collar, fellow foreigners mistook him for guest. He went to the sacristy looking for a toilet when a Mother of Butler member saw him and asked what he was doing there. When he told her the reason, she sneered, "No, the CR (sic) is only for priests! Fr. Felloni was ever so human when he exclaimed hayop (beast), to himself, and showed her his ID. Which prompted the mother to utter OMG! and literally pushed him to the lavatory (the audience roared). Such, he concluded, is the case of classic swellheads. Whose problem is getting out of their self-perceived enthronement because their enlarged noggin will no longer fit in the exit. Seriously, he intoned, ang daming Katoliko na ganito (many Catholics are like this); you are not the light, you are supposed to only radiate it. He repeated "I am not." and smiled as he savored the three-syllable three words before he said, "Sarap pakinggan!" (nice to listen to), a habit he must have acquired when he tries to reflect.
The Gospel for the fourth and last Sunday (Luke 1:26-38) has the important word Rejoice! Maraming tao sa simbahan (many people in church), he began, di marunong ngumiti (do not know how to smile) and asked the audience to not get offended and continued, pinakamasungit nasa subdivision (reaction), masaya ang mahihirap, hindi katulad ng mayayaman, parang ang minimisahan, sariwang embalsamo! (the poor are happy, unlike the rich at Mass who are like recently embalmed stiffs! (more roaring) The EG encyclical exhorts the joy of being a Christian, hindi yong mukhang galing sa lamay, (not like one who's been to a wake). It is sad but true. The angel told Mary to rejoice. He was about to destroy her life, Joseph will leave her, before dropping the bomb. As if to say, "You are with God so brace yourself." 
He asked his audience then to have no fear even if the news is dangerous, and many times difficult to say. He paused before saying, "Mamaya (later), will be the funeral Mass for Jessica. I will try to make sense to her Mom. How does a father feel for a son who is into drugs and is to be eliminated, a mother who has cancer and has six months to live, how did it feel for Gabriel to tell Mary to prepare for her son to die…"
Yet, Fr. Luciano returned, "Yet, nothing is impossible for God, what is difficult to tell family can be told if we cry and embrace God and believe that someday they will understand."
He sounded like leaving when he told his niece-and-nephew story. His sister could not conceive even if she and her husband were normal so asked him to pray for them to have a child. He punctuated this with Marunong ba asawa mo gumawa ng bata? (Does your husband know how to make a baby?) There was no hope but adoption. On the day of signing the papers, she got pregnant (at 40) and then again (at 44)! So he begged us to remember Mary and spiritualize her sorrows and ponder on how it must have meant for her that, because of her Son, two thousand innocent infants perished.
Unassumingly, he thanked us for the opportunity to conduct the catechesis (such humility!) and gave us his beautiful parting shot: "The road is not painless, not always bright, but prayer will pave the way to the light." (poetic paraphrasing mine)
ABRAHAM DE LA TORRE