The Annual Theological Congress, organized by the Faith and Formation Commission of the Diocese of Novaliches, held at the Shrine of St. Paul, Casa Milan, Fairview, Q.C., was ushered by a concelebrated Mass officiated by Bishop Antonio Tobias. Shortly thereafter, the Eucharistic celebration was underscored in a liturgical animation by the Kalipaya Group, who was introduced by one of the three emcees for the day, Fr. Aris de Leon and Misses Carmelita Dizon and Louie Galindez. Fr. Aris then called on Sr. Elina Villegas, ICM, who subbed for Msgr. Ranada, who was in the hospital preparing for a heart bypass. Sr. Elina thanked Kalipaya for showing God's mercy through dance and  quoted Pope Francis as saying, "We have to show mercy, if we are to be credible, especially to the needy and lost." The Pope's quote is fittingly captured by this year's theme, "If God is Merciful, Why Can't We, the Church, Be?: Meeting the Challenge of the Special Holy Year of Mercy."
Then Fr. Aris announced the opening of Conference I and prompted Ms. Dizon to introduce the first speaker, Msgr. Sabino Vengco. I could not have blamed her for an interminable enumeration of the priest's credentials. I will not belabor the venerable Catholic theologian's curriculum vitae as it can be perused in his recent book, "On the Eucharist," which celebrates and encapsulates his 50 years of priestly life and ministry. But litttle does this celebrated supporter of the sick and elderly know that he has touched me once upon my wordly life when I came to him at the Lipa Cathedral, in an open confessional, which converted me towards PREX, initially, and to being an active church servant to this day. Alalaong baga (in other words, quoting the same title of his radio program), he could not have known that, had I been told he was going to be one of the speakers in a congress I will cover, I would have insisted to do it. Adamantly.
Inherently fluent i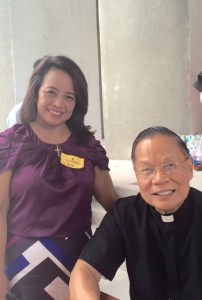 n Tagalog, his chosen medium of speech, the son of Hagonoy, Bulacan joyously greeted the expectant audience a booming Magandang umaga po and sounded off an earnest, immediate purihin ang Panginoon as was his second nature. Then he quoted the Pope's  misericordiae vultus, or bull of indiction of the extraordinary jubilee of mercy, which starts on December 8 this year and ends November 20 the next. He shared that the Pope chose a year-long celebration because when the Pontiff was 17 years of age and went to confess his sins on the feast of St. Matthew, he saw the face of God. Matthew himself was a sinful man who was used by the Roman empire to persecute Christians but he was pitied by Jesus and called to follow Him. Pope Francis himself was of humble origins but was made cardinal then pope; he wants us to be missionaries, no matter our walk of life.
Media has proclaimed the world is mired in sin: tao sa tao (man to man); patayan (killing); people are sakim (greedy); ganid (covetous); makasarili (selfish); and (unfeeling) such that justice is nowhere nowadays and, instead, what reigns is ruthlessness that runs counter to Christ. He gave as an example the recent Isis attacks on innocent people many of whom were murdered while partying in the prime of their life.
It was in Tacloban, he offered, that the Pope came and felt the Filipino people's suffering and made mercy and compassion his theme. It was there that he yearned to  iguhit sa kalangitan ang (write across the sky the) gospel that it may be lived. The Pope did what he did in the rain, raincoated in yellow, saying, "I love you, I suffer with you, am one with you." and we all felt it. So the Monsignor enjoined his now captive audience to plumb deeply when Moses led Israel to leave Egypt towards freedom, when he saw a burning tree that did not really burn, and obeyed when told to remove his sandals in that holy place, and was enlightened. So much so that he was also emboldened to ask what was the Lord's name. And He said, "I am Who am." And it happened according to His will.
It was on Mt. Horem that Moses asked God to show him His face, Fr. Vengco continued. And added that in this jubilee year of mercy, our face is that which makes us identifiable. That is why our IDs contain our face and not, he joked, our sole. It is a face that is slow to anger and full of mercy because it is the face that is bukod-tangi, (unique), kawangis ng Diyos, (the likeness of God), alalaong baga, what identifies God must be identified on our faces. If God is merciful, so must we. Anyone who refuses to be merciful cannot be a child of God. Our call, according to Genesis, is to be seen as having a face like the Father's. We should be like Jesus, who accepted a former prostitute and Matthew, lonely and companionless, yet he approached and ascribed a companion and kaututang-dila (confidant). This is this Congress' call, he declared. And asked, "Kaya ba natin?" (Are we up to it?) but before the audience could answer, did it for them, "Di lang kaya. Gagawin natin!" (Not only are we up to it. We will also do it!)
In his Ephesus apostolate, the Monsignor related that people come to him with problems about spouses, neighbors and fellows whom they find hard to forgive. His perennial counsel is the covenant that Jesus Himself signed when He prayed "…forgive us our trespasses as we forgive those who trespass against us." He warned that we should not wait for God to call us because when He does, there is no return ticket. An appreciative ripple filled the church.
He asked that we should not be Scrooges when it comes to mercy and, instead, help in catechizing children anywhere w
ithout expecting a classroom in which to do it. Chat with the elderly, listen without interrupting; if you cannot help with a solution, don't add to the problem. Let us not be too absorbed in ourselves, he said, unless we prefer to be, and he intoned in his prolific, poetic, classic Bulakenyo, di mabakas, mabanaag, makikala, matunton, makita (untraced, unimagined, unrecognizable, unfollowed, unseen.) He urged everyone to let mercy flow, let all feel Siyang sa ating puso'y nananahan sa Banal na Eukaristiya (Him Who dwells in our hearts in the Holy Eucharist). It was here that he mentioned his recent book and prayed that we keep His mercy in mind the next and all the time we go to Mass. He was sent off by a thunderous applause.
After him, a meditative intermission dance was interpreted by Kalipaya.
After the light snacks, Conference II opened with the introduction of Rev. Fr. Albert Alejo, SJ, from Ateneos de Davao and Zamboanga and convenor for Mindanawon Initiative for Cultural Dialogue.
Fr. Albert easily had the audience's attention. He tested the microphone not by tapping on it or snapping his fingers but by whistling, birdlike, which was to serve as a harbinger of sorts of his multi-layered roots and resume.
His topic interspersed Mindanao with anti corruption, Filipino values and cultural politics in a congested environment. He premised his talk with a call for sympathy for Mindanao and quizzed the crowd on the country's national leaf up to food which, to my dismay (and obviously his), was litson, instead of my certain adobo. It was his way of connecting classroom knowledge to Mindanao. That, as the teacher discriminates through textbook questions, so do the purveyors of information on Mindanao which even the internet is guilty of. Fr. Albert had a power point presentation that may have not vividly (because visibly aged and blurred by use) portrayed the situation but nonetheless hammered home a vital point, that even the government sanitizes data about that region that is supposed to be linked to Luzon and the Visayas to make as truly an archipelago. His analysis showed that in grade school (DepEd-approved) textbooks, there are: errors in the geographical grouping of Muslims; pictures of war showing Muslim terrorists recruiting (that read training) boys; and perpetrators are labeled Muslim but not (nay, never) Catholic or even Christian. He deplored them as nakakamatay ng damdamin, nakakabura ng mukha (devastates the feeling, deletes the face). He likened Mindanao to a child being lulled to sleep and sang a few strains of a lullaby in a beautiful baritone. I guessed that not a few heart strings were tugged by it.
Fr. Albert, anthropology professor and pacifist, was born in Mindanao, grew up in Bulacan, got ordained and did pastoral work in Bukidnon, teaches at the Ateneo de Davao and Zamboanga, is an ardent advocate of the peace process rituals and pushes for the Lumad agenda.
His ppp included a profile on Mindanao, whose extended map has in its tail Basilan, Sulu and Tawi-tawi, whose natives' inclinations converted to Islam and Christianity. The region is agriculturally rich but the people are stripped of their harvest and not encouraged
to consider other livelihoods or trades. Out of its natural resources, businessmen logged what they did not plant and claimed gold in the quarries. It perplexes Fr. Albert that in cities, ang daming tulay walang ilog (many bridges but no rivers) which is the reverse in Mindanao. There are no buildings there, no malls or recreation centers, simply a poor province rich in mines. He cited certain cases like the tilamsik ng Badjao sa syudad dahil sa panggugulo ng mga dayuhan doon, (Badjaos spattering in the city because of the harassment by invaders there) and, in Zamboanga, the restriction of women from wearing the hijab headwear in a school run by nuns. The issue ended in a dialogue between the faculty and parents of the students making the headwear as a non-issue. Which was not really a win for the women because they already got used to shedding it.
Why, he asked, debate and not dialogue. We have enough debating clubs but no dialogue clubs in sight. Instead of the typical parent, already bigger than the child, further scaring the latter with a stick, he'd love to see a father leveling to the size of his son, negotiating what the problem is. Why can't the negotiators, if they really care for society, sit down and talk about the arms deal, drugs and human trafficking and stop the silent cost of war. Stop the discrimination against minorities, the rape of the environment, he pleaded, and stress forgiveness, from arms to farms.
So impassioned was his call to his cause he did not mind acquiescing to a request for him to complete the earlier lullaby. His Visayan quieted the crowd up to the final phrase, which he translated, "Anak (Child, which he treats Mindanao as), gising na, maganda na ang umaga (wake up, morning is already beautiful).
The ensuing open forum was started not with a question but a statement from an evidently enamored fan who said that maaayos ang Mindanao kung nandoon kayo (Mindanao will be straightened out if you were there).
A gentleman wanted to know the status of BBL. Which Fr. Albert addressed as a failed attempt that needs to be changed for the better to succeed.
The second question was about the illegal activities of supposedly Muslim drug lords. Fr. Albert answered that the drug lords are not confirmed Muslims as there are drug dealers that are not only Chinese and Filipinos but also Christians, even Catholic.
During the intermission, Kalipaya led the audience in an animated singing of Amare et Servire. Fr. Aris' favored song could not have put the Congress' theme in better perspective.
Although the program said who the next speaker was, I could never have braced myself for Fatima Soriano's impact. She was led to the stage by her mother, their pair a simple, modest, almost insignificant (I didn't know her from Eve, pardon my judgment) sight. And Fatima, blind since birth, was left alone. She started to talk. A tiny, tinny, lilting, tinkling voice (like chimes, I thought), cheerful in her Christmassy greeting that, for someone who has been in the dark for a number of years, exuded such optimism seeing kids (she sounded like one, pardon my ignorance) her age would find difficult to match. She disclaimed she hasn't really been in the dark. Because she did not choose it, and where she is is a place of life, and love, with her parents, and surrounded by people who surround her with love. (It wasn't odd that she didn't mention light. Life and love she feels. To do light, she has to be taken into the opposite of dark.)
In 2003, she shared, she had kidney trouble and underwent dialysis until, through the help of charitable people like Fr. Jerry Orbos and a donor, obtained a successful transplant. She said she never tires telling her story and she looked and sounded it. It's a story of faith, hope, the Lord, Mama Mary, how to get by through prayer and trust, mission, suffering, mercy (it was difficult to keep track of her rapid-fire fluency. She was dwarfed (she is 22 now but still wispy and made slighter by her awkward mobility and petite frame) by the immensity of the church's sanctuary yet she had the advantage of not seeing that edge (or lack of it) she could have been chatting with her Mom or a chum so flowing – and childlike – was her testimony.)That, whatever twists and turns of life, God never changes or goes away. She advises to daanan pero huwag tambayan ang problema (pass by but don't hang out with a problem). Get rid of extra luggage, she urged. If forgiving is hard, think of God's mercy, and how many times He has forgiven and embraced us.
Then she said she was going to sing. And she did. And how. She was Lea Salonga as  Annie one moment and Kim the next except that her crystal-clear chops was not in theater trained. It was raw, yet smooth, like talent, and silk. A nice noise, a pristine pleasance, a soothing sound of sweetness. Like midnight music to meditate by. Or a psalm. That David sang. And because she was blind, she had no theatrics sighted singers employ. And was a hope-filled thrill to enjoy. Aptly, the song was about a simple life and few and little dreams.
She offered that song for hurts and their healing, for conversion, and begged the audience not to pray for self but others as well. She warned that you may not have problems but baka masungit ka na at dahilan ng sama ng loob ng iba (you may be going grouchy and becoming the cause of others' misery). She begged all to be instruments of peace, wish for a beautiful Christmas, but make it beautiful for other people, and to be there for others. Mercy, she said, is meant to be shared and spread, and the real church has mercy, overflowing, never ending. If she weren't the epitome of mercy, I'll never know who is.
She requested that her next song be our daily prayer for blessings, peace and mercy. The accolade /applause after the Tagalog piece was of approbation. A prayer answered.
Fr. Jerry has told her not to delay love because what if the people you are with now are no longer here next year. Love even your enemies, she sailed on. Humility is the key. The more you worry, the more you hurry. Stop complaining and start thanking, she prodded. Gratitude is the best attitude. Share the compassion God has given us.
As she exhorted to begin and end each day by thanking Jesus for His mercy and compassion for us all, she prayed herself. For people He will send to us, for the grace of being alive, for taking Him for granted, for forgiveness, for healing, for guidance, for peace, for Mama Mary, for His love, for guiding and raising us up.
And Josh Groban's hit assumed an angelic aura when she gave it a bilingual benediction.
As were the first two speakers before her, Fatima was given an award of appreciation. I was thinking along the lines of citation (like, Stevie Wonder-equivalent FatiMarvel?) for being a corporal angel of mercy. For she was that. Yet we were the ones that soared.
_______________________________
Abraham de la Torre