NO ONE IN Madriňan minds an activity starting late because it rarely happens. When it does, cool damage control seems to be a natural recourse. Therefore, when Ate Marivic cued me that, after her welcome spiel, I can proceed introducing our guest speaker, I jumped right into the task. It didn't take long and when I was done, Fr. Richard casually tinkered with the LCD and took a rather considerable time. The audience didn't seem to mind. There was no impatient rustling in the seats. Like the glitch happened all the time and it was no big deal. Fr. Fed, out of courtesy for the polite crowd, deemed the delay serious and briefly cued Ate Bubbles and me to conduct the "Seven Sorrows". (Like you don't force-feed sugar to ants, we complied with burning hearts.) As soon as the invocations concluded (and the bug was quashed), Ate Marivic took to the stage, thanked and welcomed the audience and called on me again to do my stuff.
I wasn't sure if he was owning up to my "translator techie" description of him, but Fr. Richard's translation of his theme was true to his attribute. Hence, "Beloved, Gifted and Empowered" became Minamahal, Pinagpala at "Binigyan ng Kakayahan. The audience, visibly anticipatory, instantly responded to his quip "Sino pa ba ang youth dito?" for the crowd was basically elderly. The laughter, therefore, kindred and appreciative (even from the really young).
He turned towards 2021 being the country's 500th year of Christianization, effectively linking Yoyoy Villame to the year Magellan and his cohorts converted the pagans in Mactan. Then he enumerated the themes of the previous years up till the present ecumenism and religious dialogue.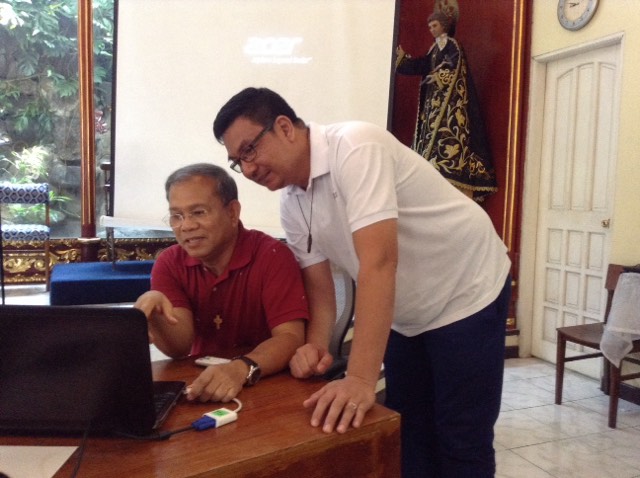 Then he asked, "Why Lent?" The past tense of lend (I inwardly reflected as apt, our lives being hiram), he said, comes from the Spanish cuaresma, and is the old English for "spring," further qualifiying that "Sa amin sa States, ito yung pagsibol ng mga rosas, etc." "Pagsibol is renewal," he continued. "Where the dead come back to life."
If we are determined to keep up with the theme and whom it represents, Fr. Richard intoned that interaction with the youth cannot be helped. "Who are the youth," he asked. Or, to be truer to the truth, the youth themselves ask, "Kilala nyo ba talaga kami?" As though challenging our judgmentally stereotyping them as bastos, tambay, walang pakialam, etc.
He urged the audience to join him in analyzing the subject. This he did by presenting three headings: pagbabalik-loob, paglalakbay, at pagkamatay sa sarili to parse them through.
Pagbabalik-loob (reconciliation), he started, is done with pakikinig (listening) and noticing. In a landscape of politics, economics and socio-technical trends, we have no right to label them as having no concern for EDSA or Martial Law. Their silence should not be misconstrued as treating the subjects as simply an Araling Panlipunan. If they cannot appreciate our 25 centavos then as the 20 pesos of today, we should not dismiss them as sa technical lang magaling being millennial (compared to the baby boomers in our time) or digital natives (viz generation x or y or z). Or else, it may be possible that we are preparing them to face a world no longer existing. This is also applicable to the Church who may, instead of calling them in, be driving them out by name-calling.
"Who are the youth?" Fr. Richard repeated. And answered himself, "They are life-giving and want to be life-giving, We should not judge them without adding to their potentials, and the least we can do is tap if not try them (potentials) because they both are mahalaga (mahal at alaga) and will be disheartened if we make them feel dysfunctional and loveless. In this age of instant fixes, where the catch-all phrase is "May wifi ba?" (unlike in those days where may awit basta may song hit) and one can google for a boy/girlfriend, are we in sync with time, more spiritual than religious (nag-uusap naman kami ni Lord), what is the Church for us? Is the Eye reduced to PBB's big brother who is watching every housemate's move? Fr. Richard heartens with his answer: The Church is welcoming and embraces the problems of the youth; the Pope defines the Church as a hospital that does not drive away but nurtures the sick, like the youth longs for a Church that is progressively epic (allows them to be always in, to belong more than anything. Then Fr. Richard uses his smart phone to demonstrate and hammer home being a foodie-selfie with no accounting for grace, like we're all afflicted with a Narcissism syndrome (no throwback, just present sense of self), we're even texting one another at home! He admitted that technology is good but (self-professed) techies may have corrupted the concept. The long and short of it, Fr. Richard summed up, is that google has no heart, which a teacher has.
Paglalakbay (pilgrimage) has to be personal and accompanying. We call the pilgrims by name, not through hoy or pssst or any other label, but by an attribute personal to them, as if "Para kanino sila bumabangon, humahanap ng pangarap, bakit, paano, saan?" has the real value it is supposed to impart. To make them ready to be in and supportive of society, Church and country. They are not the future but they are here and now, a gift to the Church, society and the world, very new, very true, patunay at huwaran, testimony and witness, for they are not like the lamented priests who are respected but go out at night to seek scandal.
Pagkamatay sa sarili (self-emptying), pagbibigay-daan (giving way), They hunger for discerning families and communities that support, nurture challenge and provide a home – tahanan – or, without them, they become iwanan, victims of broken homes, incest, patricide and some such heinous acts.
The Recollection Master had a kwentong Jollibee that depicted how to walk the talk and how the youth can be nilalapitan at kinakausap. He showed a film of a father and a son. The former had big dreams for the latter and the son, obedient, did everything he could to make his father proud. In the end, however, he was not able to level up to him and said "Sorry" that he failed. The father dismissed his apology and said, "Mas mahalaga, mabuti ka, proud ako sa yo!" Joking that Jollibee paid him amply, Fr. Richard counselled his audience to wait, don't google for what God will give, be a parent (or priest) and not a punisher when being or serving, don't get ahead, be approach- not untouch-able, for the youth to journey – and level – with us. We're supposed to hold the youth up and not the other way around.
Then he showed another film, this time a McDonalds clip (he didn't kid if he was paid for it as well), which featured a man who had many lapses but whose family accepted him no matter the mistakes. The conclusion was offered by yet another film with 9 boys and girls singing "We are One" in joyful declaration of unity and victorious strength.
When the applause died down, Ate Maricar went up on stage and acknowledged with thanks Fr. Richard's prolific presence. She got better and let her educator emerge by sharing an insight on what just transpired. Her tearful contribution suitably set the tone for the following Liturgical Celebration. Amen.