THE FIRST PART of Fr. Rosauro Lunario's Talk for the Ministry of the Word members was conducted the week before the Sunday we legionaries were invited to its conclusion. MOW head Ate Minnie decided it would be a fitting send-off to the legionary priest to include Marian organizations like the Daughters of Mary Immaculate (DMI) and ours; he will assume his new assignment in Naga, Camarines Sur on September 1. Be that as it may, I felt I did not miss a considerable part of his legacy, especially when he prefaced his address with a song, Your Love. My feeling burgeoned into firm decision to listen up that I may write about him for the final time.
Fr. Rory began by saying "Following Jesus is primarily being true to ourselves in order to serve the Lord wholeheartedly." I could not agree more. For, indeed, how can service be true with a half-hearted rendering. I liked that he liked his visual of a waterfall, which he described as flowing water symbolizing life. Being alive and loving life are the essences of following Jesus, in spite of life's uncertainties. It is not done in anger which, according to Buddha, is like drinking poison and expecting the other to die. It is letting go of negative emotions, of the past, of the ways of the world, that we may be patterned after the standard of Jesus, whose service was done in obedience to the Father, in humility, and for God and neighbour.
Love, after all, was the omnipresent and overwhelming catalyst of Jesus' cross. Love for the sinner, not the sin. Which was why He served His life, that all may live, and be saved.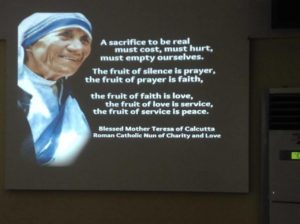 Without love, service does not bear fruit. To be a minister is to serve. Yet not all forms of service can be called a ministry. Some services are compelled or motivated by fear, compensation, or other factors, except love. Service in a ministry is done with love if it is in answer to a call from Christ, the Master who was also a Servant. It is the answer to a mission for life to work in His vineyard. The quality of the calling is not unlike that of Christ's – simple, solid and solidary – hindi angat sa iba, buo dahil banal, and in union with, not separate from, others. It is an authentic ministry when we can say, "I'm one of you, a bre thren." It is real when it does not, like the world, seek for success, but for fruitfulness.
Not content with his topic, Fr. Rory proceeded to give tips to the lay ministers of the Word in order to upgrade their service. From the proper use of one's voice and the microphone, to the actual reading of the Scriptures, to the reverent conduct before the Sacred Host, he soothed the ears of his rapt listeners with his reassuring counsel.
His presence continued to bless those who went to the 4:30 pm Mass, where our Pneuma Choir sang at. His homily was about what people say of Jesus, what Peter thought and the latter's role in the Church. Fr. Rory's reflection said that even during His time, people's perceptions of Christ were wrong, similar to what others think of us. Thankfully for Peter, he got Him right and, because he was tumpak, he was named the Rock.
Furthermore, Fr. Rory stressed, because the teachings of the Church are infallible, even if the Pope falters, we need to protect her truths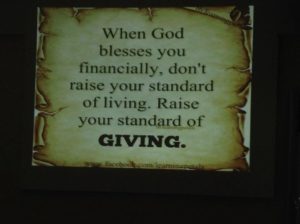 from those who differ from our realities. The keys handed to Peter carry with them trust and responsibility. We are also trusted to be responsible for the use and abuse of those openers to the Church's doors, here on earth, and of God's gates in heaven.
Before he gave us the final blessing, he announced the Mass as his last prior to moving on to Naga in a matter of days, and earnestly thanked all those who made his brief stint and stay in the Holy Spirit Parish pleasant and productive and spiritually sweet.
ABRAHAM DE LA TORRE