Career Prayers
 Prayer for Choosing a State of Life
Fro
m all eternity, O Lord, You planned my very existence and my destiny. You wrapped me in Your love in baptism and gave me the Faith to lead me to an eternal life of happiness with You. You have showered me with Your graces and You have been always ready with Your mercy and forgiveness when I have fallen. Now I beg You for the light I so earnestly need that I may find the way of life in which lies the best fulfillment of Your will. Whatever state this may be, give me the grace necessary to embrace it with love of Your holy will, as devotedly as Your Blessed Mother did Your will. I offer myself to You now, trusting in Your wisdom and love to direct me in working out my salvation and in helping others to know and come close to You, so that I may find my reward in union with You for ever and ever. Amen.
Prayer for Success in Work
Glorious St. Joseph, model of all those who are devoted to labor, obtain for me the grace to work conscientiously, putting the call of duty above my many sins; to work with thankfulness and joy, considering it an honor to employ and develop, by means of labor, the gifts received from God; to work with order, peace, prudence and patience, never surrendering to weariness or difficulties; to work, above all, with purity of intention, and with detachment from self, having always death before my eyes and the account which I must render of time lost, of talents wasted, of good omitted, of vain complacency in success so fatal to the work of God. All for Jesus, all for Mary, all after thy example, O Patriarch Joseph. Such shall be my motto in life and death. Amen.

Prayer for the Sanctification of Labor
O God, the creator of all things, you framed the law of labor for the human race. Graciously grant, by the example and patronage of St. Joseph, that we may do the work you provide us and earn the reward you promise. Sustain us with your grace to live up to our duties in charity and justice. Amen.
Prayer for Vocations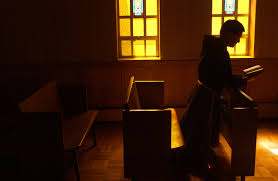 O God, you sent your Son, Jesus, to bring eternal life to those who believe. I join him in praying for laborers for your harvest. May your Holy Spirit inspire men and women to continue his mission through your priesthood, diaconate, religious life and lay ministry. May this same Spirit make known your will for my life.
Taken from: http://www.ourcatholicfaith.org/prayer/p-career.html