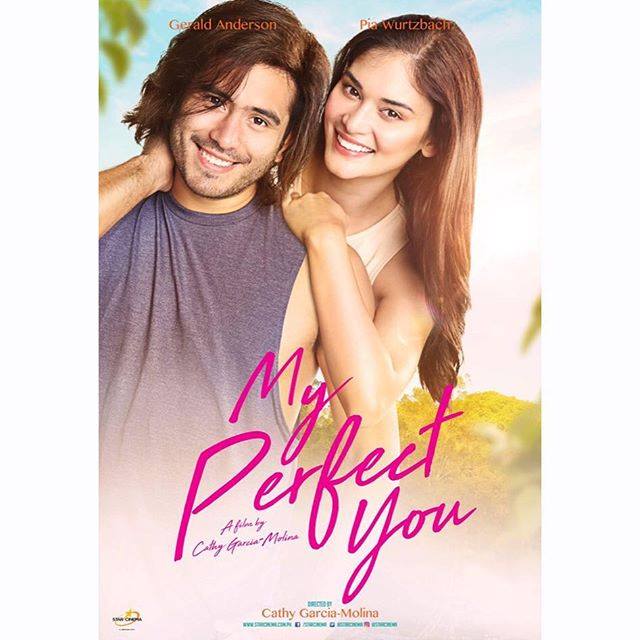 by Ms. Meanne M. Mijares
CAST
Gerald Anderson as Burn Toledo; Pia Wurtzbach as Abi; Tonton Gutierrez; Dimples Romana; Wilma Doesnt; Janus del Prado; RJ Ledesma
DIRECTED BY Cathy Garcia-Molina
DISTRIBUTED BY Star Cinema
RATING PG
GENRE Romance/Comedy
When I was watching the film's trailer, these questions struck me: "What if your second chance at love becomes another chance at heartbreak? Will you still take it?" Love is not a bed of roses. Its thorns can prick us and make our hearts bleed. A soaring feisty, dark romantic film where illusion challenges reality, Star Cinema's latest outing, 'My Perfect You' lives in a picturesque realm that feels unlikely and authentic simultaneously.
It is your universal, excessively methodic romantic comedy that fixes upon the captivating attraction and interaction of its lead protagonists to deliver an appealing, and justly heartwarming story. But to my mind, it's not what you think it is.  The film has a spiraling turn that tackles a condition that is not usually seen or tackled on the silver screen that viewers didn't expect it coming.
THE STORY
The film brings together, Miss Universe 2015 Pia Wurtzbach and Gerald Anderson, in a haunting tale of loss and second chances, and all the beautiful and painful realities that come with them. In the film, Burn Toledo (Gerald Anderson) is a graphic artist who gets deserted by his girlfriend on the same day he proposes marriage to her.  Confounded, he boards on a haphazard perilous journey to a far-flung secluded locale after being devastated with a major heartbreak together with a dwindling career.
The heartbreak gets him to the Happy Sunshine Camp, where the idiosyncratic and effervescent, Abi (Pia Wurtzbach), is anyone every occasion asks her to be  owner,  a manager, bell girl, cook etc.–rolled into one. Their fortuitous encounter lay concrete on the way to Burn's luck to love and happiness.  Infuriated at first, Burn in due course falls in love with Abi because of her sincerity and comicality, that when she professes 'I can be anything you want me to be', he trusts her.
But there's a huge snag to that declaration, and it is where the storyline's biggest deceit is well- draped Such parabolic scam reminds me of Last Night top-billed by Piolo Pascual and Toni Gonzaga where the reveal felt unspontaneous and strained. In 'My Perfect You', the trick is uncovered in a smooth manner that the events leading to the expose go in a far-reaching mode that captivates movie goers.
Debatably, that surprising plot turn is expected –I find it easy to grasp something like it would eventually happen. But it is the strength and emotional consequence of that instant makes it unbearable to be ready for. And once it hits, the result would be a stunned quietness.
STRONG POINTS
Gerald Anderson owns a laudable control to pull off the shades of his portrayal, exquisitely, that even Burn's emotional levels are mostly limited within the sullen range of loss and grief, he is still able to bring them at conspicuously changing stages and strengths. He exudes a masculine grace that makes even his moments of loss and failure, worth watching.
Miss Universe 2015 Pia Wurtzbach is to my amazement, delightful in this film. She is a natural siren whose loveliness and wit makes her character Abi effortlessly worth rooting for. She produces a convincing portrayal in an expressive clash with Burn, showing her acting chops proving that she is not just a beauty queen but an actress to reckon with. She carries the witty attempt and makes the film's very excruciating and agonizing scenes, unusually honest and profound.
But together with Gerald, she forges an unbelievable connection, that every single moment they are put together in one frame, they conjure magic.
The gorgeous cinematography makes another outstanding personality that becomes a movie that showcases more as a display of loss and desolation. Sleek and verdant colors welcome the viewers to plunge themselves into paradise that it ostensibly establishes, and while it only happens to be just  a conspiracy to a rousing tempest inside that will surely split emotions and spirits away from each other, we still dive into it. Who would resist a story set in an absolute escape to paradise?
I enjoyed its fast pacing. The script was well-oiled and properly conceptualized. There are some sexual content in this film but it was done in good taste. There are also some words that are quite below the belt, though. Some weak points include cast members who need to improve on their acting skills and the way they deliver their lines. Dimples Romana and Tonton Gutierrez deliver remarkable performances while Janus del Prado and Wilma Doesnt provided comic relief to the delight of the audience. RJ Ledesma was not bad at all when it comes to good acting.
CONCLUSION AND SPIRITUAL CONTENT
Though it may be improbable at times, 'My Perfect You' makes a significance of the here and now that will prod viewers to shed many bitter tears. There is a predisposition to be a tad lumbering and the events tend to get consumed by its own sensitive extent. .
Delightful, moving, and yes, very heartbreaking, 'My Perfect You' is a fascinating story about second chances at love and life, and the decisions we need to prepare to be worthy of them. This reminds me of a particular saying: by former US President Thomas Jefferson: 'If you want something you've never had, you must be willing to do something you've never done.'
Answering the questions posed on the trailer, it would be a yes because the lesson that you will have to learn will make a life changing turn that will be one of your life's best defining and rewarding moments but only for a few times because as the song goes, too much love will kill you.
My Perfect You celebrates love despite all of our flaws and imperfections. I would like to add that despite by all our frailties, we have a perfect God who loves us unconditionally without exception. Being single need not be so bad and no need to rush love, right? It's all about finding lasting not necessarily perfect love, isn't it? Let's begin with being loved by God first then loving ourselves before we can love others again!
Overall, I give the film a 4/5 star rating.