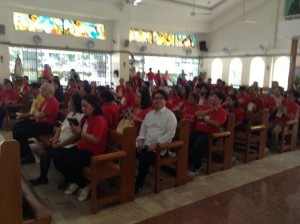 NO ONE WHO has heard Bro/Kuya Ross Evardone will be satisfied with a mere earful. It is not known what strategy he infuses his speeches with, such that the first-time listener does not overdose at first sound and, therefore, wonders if there's more to his funny one-liners, so waits for his next emergence, or if he deliberately hangs them in side-splitting suspense so that they'll be amply rewarded for their patience at his next act.
For Rosauro Evardone, the American citizen from Italy (a private joke that reads Visayan from Samar) is an act of elocution he has effortlessly raised to an art level. Ask any PREX graduate (from the early years of the seminar to  
 the recent Class 42 that completed the two-day course just this September) who he is and the response will be as quick as it is varied: the clown, the wit, the seminar jester, speaker par excellence or  extra extraordinaire. The shot of upper at a time when it is more desirable to go down with a nap than listen to yap. Indeed, the listener sits up straight and watches him open his trap, not because the former is threatened to be thrown the cordless mike at (for the joke has lost its venom but retained the humor) but because he knows he'd be sorry if he is the only one who didn't get the speaker's punchline.  And Kuya Ross has the uncanny knack for not only catching the latest rib-tickler (even rehashing it every so often to suit the changing times and audience) but also delivering it at a surefire moment. I have yet to hear him crack one (new, old or rehashed) that isn't a winner.
Ergo, the Holy Spirit Parish, venue of PREX 8th Anniversary Reunion last Sunday, October 25, was packed. With graduates coming all the way from the member-vicariates of the church. All abuzz with anticipation of what's the latest with their favorite speaker. Kuya Noel Tamase put the people in the proper perspective through an opening prayer. As in most PREX get-togethers, the inevitable action songs set the tone of this one. Eight Ates and Kuyas, led by Ate Clare Coronel, positioned themselves around the altar to effectively enjoin the throng into the action songs. A back-up choir volunteers were on the loft to augment their friend Ate Clare's voice. The crowd did not need to be cajoled, they sang – and acted – along. Smilingly, joyously, every which way their passion could contain the fever. Which I call a happy addiction. After three sweat-inducing numbers, Ate Clare announced the name that never needed an introduction. His signature smirk was instantly all over the place. And so was the thunderous ovation that confirmed his presence.
Kuya Ross' magic, I think, lies in his split-second recognition of opportunity when he sees it. Therefore he seizes it. Like he wasted no time in acknowledging Ate Tere (an obvious, self-confessed die-hard) who was on the front pew. And the acknowledgment, because coming from him, was typically irreverent. Which broke the ice. Not that he ever needed a breaker. When all his fans and admirers agree that just one "Yis!" is all he needs to spell-bind any audience.
He even apologized ahead should he overshoot his alloted 45 minutes, which no one really paid attention to (indirectly demanding that he get on with it, for crying out loud, and bring on the laughs) so he moved on.
He sounded pensive when he said how fast time flies. The Holy Spirit Parish PREX has reaped eight productive years and it won't be long before the bishops start planning for another Vatican synod on the family-supported church teaching on hot-button issues. This year's event followed the theme "The Vocation and Mission of the Family in the Church and the Modern World." Which nailed Kuya Ross' Talk entitled "We are Poor, We are Family."

Filipinos, he confessed, are so used to God's miracles that they do not mind praying a 9-day novena with fervent faith that on the 10th day, the Holy Spirit delivers. To drive home this solidarity in prayerful looking after one another, he requested everyone to srand and led them in singing "Pananagutan."
Shifting to story-telling mood, he recalled an artist who wanted to paint the most beautiful thing in the world and so went around in search of his object. He saw a soldier and wanted to paint peace. But the soldier was on his way to war and could not be bothered to model. The artist walked on and saw in the park a pair of newly weds holding hands and kissing he wanted to paint love. But the pair was so enamored of each other he could not have the heart to intrude in their private bliss. So he continued on his way and passed by a church and saw a priest and wanted to paint faith. But the priest just finished saying Mass and was in the middle of old and young parishioners who wanted to be blessed by his company. Dejected by three attempts at bright ideas that deflected, the artist went home. Upon the sight of him, his wife and children came out of the house and rushed to him. Eyes aglow, smiles unwavering, they hugged him like a long-lost missed member and took frantic turns in saying, "Where have you been? We were worried about you? Thanks God you're back in one piece!" It suddenly dawned on the artist that, all the while, he had always had all the elements he was looking for and longing to paint.
How often, Kuya Ross asked, do we realize that our family is right under our noses and yet take them for granted. We only have to wish for three things to be truly in happy old age: good health, a loving family and a pround longing to serve God. The riches will not even be a concern, he concluded.


Smirking a sign of another anecdote, he used Ate Malou and Kuya Noel as characters of his story. Kuya Noel was at the gates of heaven and was being questioned by St. Peter if he was present at d 8th anniversary of PREX. Yes, was the prompt reply. The clincher was for him to spell the word "love" and the piece of cake got Kuya Noel through. St. Peter had an appointment elsewhere and asked Kuya Noel to man the gates. No sooner had St. Peter gone than Ate Malou emerged at the gates. He asked her the first qualifier. Check. Then he delivered the bomb,. Spell "Czechoslovakia." The audience roared.
Going back on his track, he asked why the poor are deemed the riches of the church and answered it himself by saying that the poor can evangelize us simply by their love for God, their only handle, whether they are in need or not. I was not surprised when his voice cracked at the part where he described the poor as a sector that no one pays attention to. Even the little that they possess is coveted and usurped. They have no voice, they are only heard when the church announces their plight. They are beggars under the sun and rain who can teach us a thing or two about being humble. He agrees that yes, we know how to give, but not how to receive with humility. Which is what makes the poor the intimate friends of Jesus, along with the outcasts and the sick.
He added the significant step to servanthood which is the ability to face up to and get near to any kind of people, especially those afflicted with infectious diseases. Here, he cited the woeful arrogance of St. Francis of Assissi who, on hoseback, saw a leprous person on his way and turned his horse back to flee. A strange force held him and horse back. He was compelled to acknowledge the leper. Who turned out to be Christ.
With that current, urgent message, Kuya Ross underscored that, "We are the poor, we own nothing and without owning up to thirst, hunger, poverty and suffering, we won't see the face of Jesus."
Sensitive to his audience, whom he felt to have been hit, Kuya Ross sequed to a recent symposium on faith where the speaker asked the audience if they believed we came from monkeys. No one seemed to share the belief. So the speaker concluded, "I'm glad you don't think so. I myself doubt that very much because if it were true that we all came from monkeys, why does Vice-ganda look like a horse?"
Towards the end of his talk, Kuya Ross left the audience with this last shot. A young man dreamt he died and met St. Peter, who asked him, "What can you give for me to let you in?" The man replied, "My hands are clean." St. Peter did not disagree and said, "Yes, but sadly, they are empty, because not dirtied by service to the poor."
———————————————–
Abraham dela Torre is a self-avowed PREX addict who was one of the animators in the action songs.