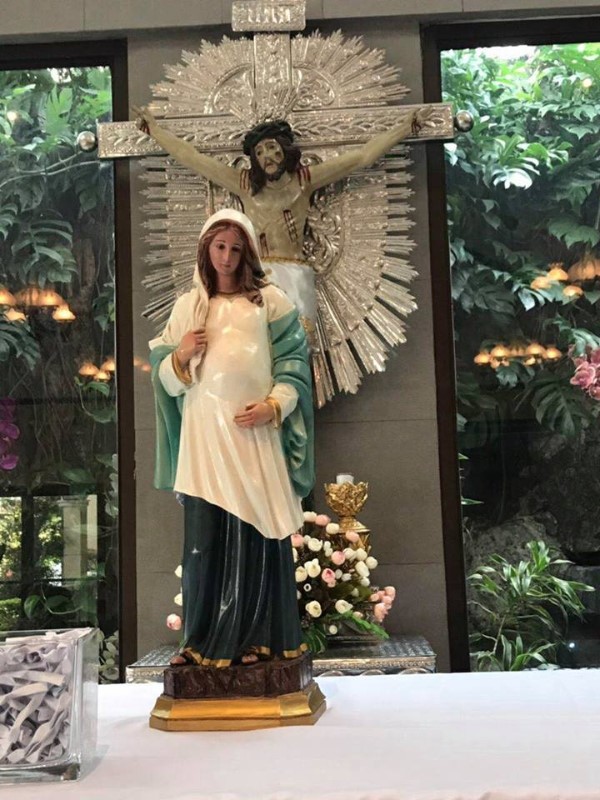 ALEX AND HIS friends were still sleeping so I decided it was still early to wake them up. My son and his volunteer friends were up late packing the gifts for the special-needs children of Sacred Heart Center. (He told me later it was a resounding success; 80 kids and some 70 adults benefitted from their outreach. Sr. Eleanor thankfully confirmed the feat.) Therefore, quietly slipping away and dropping off the PLDT directories at UtoLiza's house, I took off for Madriñan. I didn't want Ates Bubbles and Marivic to get there ahead of me. When I arrived at the Montfort Center of Spirituality, I was greatly relieved by the registration booth that was set up and the chapel-cum-conference room ready for use. Ate Raquel told me the coffee-maker was in place and the snack room stacked up. I had just plugged up the dispenser and percolator when the buzzer rang: Ates Bubbles and Marivic with Aaron in tow. I met them in the driveway and helped with the tarps and registration paraphernalia. Fr. Fed brought out the ladder and Bro. James helped us put up one tarp at the gate; Ate Bubbles and I taped up the other on the glass panels of the conference room. In no time at all, we were welcoming the early registrants, among whom was Sis Pet and her coterie of four ladies from Pasig. It didn't take long for the place to fill up with the audience to the third AMQAH Recollection and the last of this year's series.
Ate Marivic was on the dot and up front in her welcome remarks. So visibly eager was she to get the ball rolling her spontaneity missed out a minor detail: she introduced Fr. Fed prematurely and without the requisite courtesy somebody else took pains preparing for. No matter, the pleasant pastor took it in stride and did his part and, in terms glowing and grand, fittingly presented the Recollection Master for that day, Rev. Fr. Paul Arnel "Dodong" Lucero, SMM. Mary does destroy plans that God's will be done. There's always a lesson in humility to learn. Sr. Mary Grace is not only a hermitess, I proclaim her a prophetess.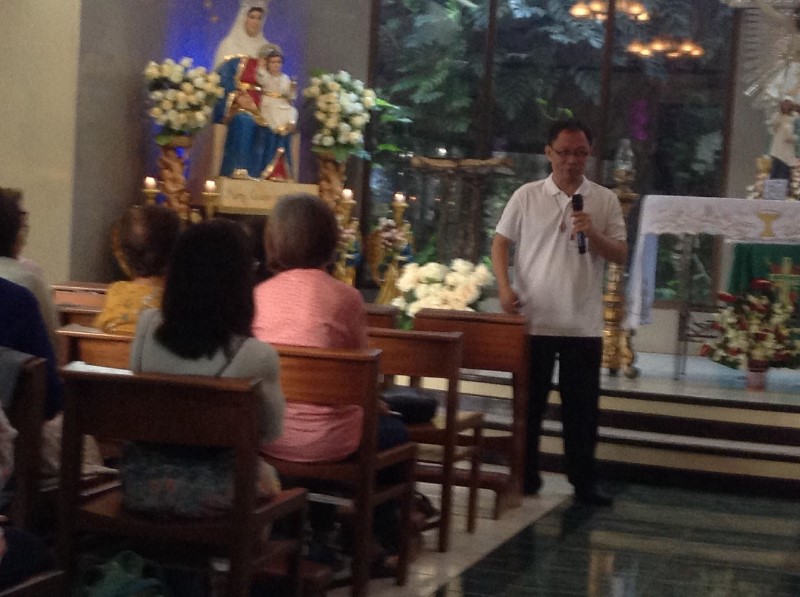 Fr. Dodong, modest and mannered, told everyone that December 2 is Advent and starts our new liturgical year making the recollection pertinent. The master story-teller quickly narrated the yarn about a 12-year-old boy who, because it was Christmas and he was growing tall for shorts, asked his mother to buy him a pair of long ones as his gift. His Mom said, "No worry," and assured him he'll get what he wants. She went to SM, bought a pair, wrapped it up and put it under the Christmas tree. Christmas Eve came and, excited, the little boy asked if he could try them on. His Mom agreed but only after the Christmas Eve Mass. The boy couldn't wait and, as soon as he got home from church, tried the pants on and found out that the pair was 6 inches longer, so went to his Mom and asked her to cut the trousers to size. His Mom was cooking in the kitchen and asked him to go to Lola instead. Lola was also busy and quickly sent him to his older sister. Ate, however, was practicing for choir so begged off, leaving the boy sad and ending up crying until he fell asleep. His Mom later entered his room, saw his tears and was conscience-stricken so immediately altered the pants. Next came Lola, saw him tearfully asleep, was overcome with pity and did the same thing. Ate came last, saw the same sad scene and did the same routine. When, he woke up in the morning, the boy saw his new short pants shorter than ever.
Fr. Dodong declared we have a new time, something new, something like short pants, something like vitamins, and claimed he is not a doctor or nurse but he will nonetheless talk about vitamins as a prayer with Mary. He asked us if we have ever seen a statue of pregnant Mary as he pointed at her on the altar. (Earlier, Ate Bubbles and I reverently placed her precious image on a table at its right side.) He shared that the statue was a very intimate journey companion for him, the experience of pregnancy being something he had long wanted to share and be enlightened on. Because of her condition, Mary needed to take care of herself. Addressing the audience, he said that we know more than him that we need vitamins (I sensed that he obliquely referred to Mary's times as having none of those). And he can help us with the spiritual sort. Pointing to preggy Mary and, in front of her, a jarful of rolled-up little paper strips, he said that after his talk and during communion at Mass, each one of us will get a strip from the jar and find out which of vitamins A, B, C, D or E we will get. Ironically, even if Mary never had vitamins in her time, those that Fr. Dodong will prescribe represent her five exemplary traits. He will focus on them along with the narratives of Luke (on the annunciation and visitation) and requested UtoLiza to read the Sunday Gospel. Thereafter, his oral prescriptions began.
Vitamin A was for availability. He asked who among the audience were taking vitamins and, satisfied with the raised hands, moved on to another story. Of an OFW who has never come home for 20 years and decided, after feeling something wrong with his body, to surprise his family. He didn't say, however, the exact time of his arrival because he planned to be home 6 hours earlier. So he went as intended. No one met him at the airport but he didn't mind because it agreed with his surprise. He took a taxi and shortly arrived at the big house that his uninterrupted toiling abroad built. He made noise entering the house. Nobody seemed home but he soon found his wife cooking in the kitchen; she gave him a quick kiss and went back to the stove. His daughter was on the second floor preparing for the welcome for him and hollered that she'll be right down. His son was on the computer printing the welcome banner and simply waved at him. So he went to his room. An hour later, his mother found him in bed, dead, and became hysterical. Later, when the horror subsided, they read the note that was found beside him. It said: "I've come home to stay and be with you before the last moment of my existence."
 But, Fr. Dodong continued, they were not available for him. Mary was available for God at the Annunciation. For her fiat, Latin for "let it be done," she laid aside her plans with Joseph and made herself free for God and His. And he followed it up with the story of an 8-year-old child longing for his dad and mom to go to church with him. One day (and, for the benefit of the foreigner brothers who were with us, asked us to translate it, which he did several times and, towards the end, warned the brothers that he will quiz them on it later), he asked his dad how much was his daily salary. Ten thousand was the nonchalant reply. To which the kid said "Wow!" and immediately followed it up with, "Gimme 5 grand, Dad?" The father dipped a hand into his pocket, fished five one-thousand-peso bills and gave them to his son. The kid went to his room, took P5-k from his savings, returned to his Dad, and said, "Dad, instead of you go to work, I'll pay you P10-k. Let's go to church?"
As open-ended as he leaves his stories, Fr. Dodong sounded like the next thing he uttered was in connection with the just-finished tale when he said that, when God asks us to commit our time to Him, which pledges "I want to be available for God and family during this Advent season," it should be like Mary's fiat. The commitment that concluded his vitamin prescription was accompanied by a Gospel text and its application to life, a pattern which pervaded throughout his talk.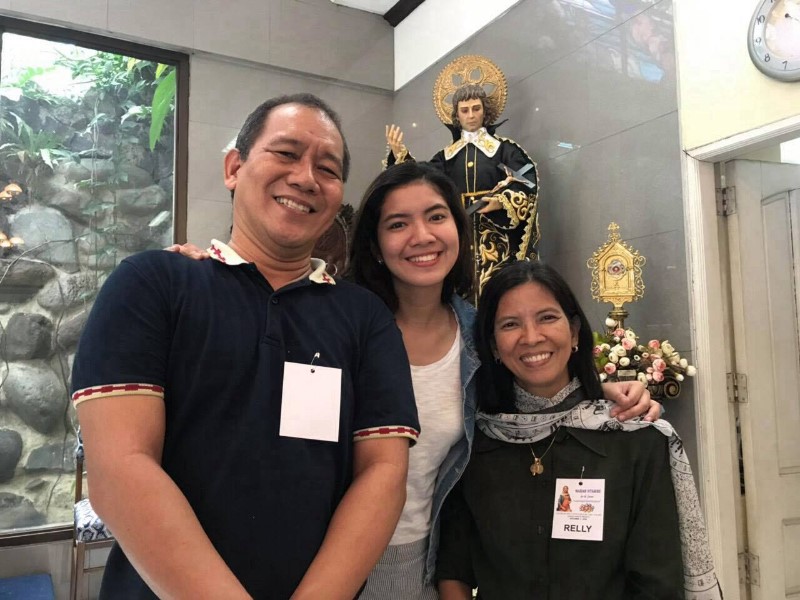 Vitamin B is for beauty, specifically the interior kind. "Who wants to be always beautiful?" was his opening salvo. Modesty told everybody to be prudent, which Fr. Dodong appreciated, especially when a ripple of laughter accompanied his acceptance. It is not a rare combination, humor and laughter, when Fr. Dodong is the speaker. He said that preoccupation with beauty is possibly a priority of the vain and his next question was, "Who has been to India?" before he informed us that there, it is the woman who pays the dowry, which depends on how good-looking her intended is. At this part, he disclosed the need for translation for the brothers as necessitated by their very limited vocabulary which comprises only of patay and arestado which everybody's snickers described as not very pleasant, however informative. And he got to the portion where a beautiful Pia Wurtzbach-looking woman was asking a priest how much it will cost her to be wed by him. The priest said it depended on how good-looking her beau is. Several women have gone to him and he boasted that he was able to fetch P50-k from the first, a check worth P500-k from the second, and a carte blanche from the last. So "Pia" draws from her purse a 5-peso coin and hands it to the priest, who asks, "What? Why? Where is he?" For he was not only perplexed, he was also in disbelief. So she asked for them to go outside and led him to where he was. When he saw him, he gave her back P3. With that, Fr. Dodong concluded that it is not how long the homily is but how home was the hit; it was not with his face but his heart that the groom attracted his bride. As a visual to hammer it home, constantly alluding to the two-peso face, he asked how many are the 8 beatitudes and, as the laughter got his joke, homed in on the heart as almah in Hebrew, which means a pure, young woman and the Greek Parthenos, which means virgin. Like Mary's was not only a physical virginity for, even if misshapen, she still retained her immaculate grace, because her bump was by the Holy Spirit blessed. Then he enumerated Mary's beautitude as Makarios, meaning blessed, fortunate and happy.
Fr. Dodong said we are dictated by others' perception of our appearance. And to illustrate this, he showed a video of a father educating his son, through their environment, on how they compare to the mostly poor others. His son's sensitivity shocked him. Apparently, the kid knew about blessedness that the Beatitudes contain. More than that, the boy discerned that being rich does not automatically enrich.
Charity is another word for love, said Fr. Dodong. A huddle of mothers was caught up in bragging about how great their sons are. One mom said his son, a priest, is great because people call him "Father". "Hus," said the next, "nothing compared to my son, he is a Monsignor!" More "Huses" as the other two mothers had a cardinal and a pope for a son. The fifth mom, mum as a clam, only smiled as her son, a towering 7-footer, approached to bless her hand. "Oh my God!" was the chorus of her fellow moms.
Mary, Fr. Dodong went on, visited Elizabeth to serve the mother of John even when she was the mother of God. Her haste in Greek means zeal; in turn, Mary had Ezealabeth, whose baby in her womb leapt for joy upon sensing the former's presence. The great expectant mothers bonded in spiritual talk unlike the chika contemporary women (pregnant with child or nonsense) indulge in. Their chat was full of love and longing for the birthing of the blessed boys in their wombs. As in her "Yes," Mary set aside her needs again to serve her elderly cousin.
The love that was underscored in Vitamin C was highlighted further by a video of random acts of charity (portrayed by Chinese actors) which had for their receivers an old man, an old woman, a kid and a dog.
Vitamin D is for down-to-earth and who could be a better personification of the attribute than Pope Francis, whose pictures inundated the screen and zoomed in on his shots with a Swiss Guard. Fr. Dodong retold the story that a few days after his election as pope, he saw a Swiss guard outside the door of his room. Thinking that the guard had been standing there for a long time (and surely tired), the pope took a chair, gave it to him and asked him to sit. Almost shocked, the guard politely refused and said he'd be reprimanded by his captain and maybe lose his job if he did that. But the pope insisted and, because he was higher than the captain, the guard obliged. The pope left and came back with an Italian bread-and-jam sandwich for him. The Vatican guard was in tears, hardly believing that, instead of him serving the Holy See, it was the latter who served him.
Fr. Dodong projected another touching picture of Pope Francis washing the feet of prisoners/refugees during one Holy Thursday celebration. How very like Mary who, after being told that she will become the Mother of God, kept her humility and remained a faithful servant. Another pope anecdote was about an unwed mom whose child was refused to be baptized by a priest. Desperate, the woman wrote the pope and unimaginable was her surprise when he called her and asked that, if she will honor him, he will baptize her child. One picture showed him letting a child sit on his chair, another allowing himself to be in a selfie with a crowd. Fr. Dodong's conclusion was that the taller the bamboo grows the lower it bends. My take is that the higher it reaches to heaven, the lower it kisses the earth.
Endearing was Vitamin E, a quality equal to being Christlike, like Mary and her Son Himself. I had Sis Charito in mind when Fr. Dodong said that her name is the Greek equivalent of the vitamin, which was truly apt because she had the characteristic. He gave an interesting insight by the story of child who was asked where heaven is and he replied, "Up." But when asked where hell is, his equally quick reply was, "At home." His simple explanation was that his Mom calls his Dad "demonyo". Then the pastor showed a video of a boy and a girl with their grandma in the supermarket. The little girl wanted a cake but lola said they can't afford it. A man bought it for them, with a note. In a flashback, the man (who was a kid then) was shown getting the same act of charity from an old man. That old man turned out to be the kids' grandpa, whom they gave the cake to. He read the note and recognized it as the same note he accompanied the cake with. Our recollection master capped the tale with "A simple caring creates a ripple continuing.
His last story was about St. Anthony of Padua, the great preacher, and an ordination where the presiding bishop, when told by his superior that he will render the homily, reacted that he was not prepared. The superior asked the priests but nobody was willing. So the bishop was constrained to suggest that he knew of one capable pastor but he was in the kitchen helping with the food preparation. Fr. Anthony was summoned and he gave a beautiful homily. That was the start of his vocation as a great, sought-after homilist. When he died and went up to heaven, St. Peter welcomed him enthusiastically. He eagerly asked if the bishops and priests that went before him were there. So they went to a room where St. Anthony saw only ears and asked there the other body parts were. St. Peter answered they were in another room with the explanation that their ears were separated from their bodies because they heard but did not listen and, therefore, did not practice what they perceived.
From the audience, Ceejei, daughter of my good friend and TTJer Taki, asked how does one practice with consistency. Fr. Dodong replied that it's just like learning how to play the piano, where one practices unceasingly until practice becomes a habit and an integral part of the person.
From there, he asked the audience to count off to 14 and fourteen groups of five people workshopped on the question: Among the five Marian Vitamins, what is it that you personally feel you need most for your spiritual life during this Advent Season and why?
For circumspection's sake, I will only disclose what I chose, which was inner beauty. To my astonishment, after my communion and thanksgiving prayer, which was expectedly understandably a supplication that I get what I asked for, I did. And shed.