MANILA, March 12, 2015— Pope Francis yesterday recalled with a smile how Filipinos called him "Lolo Kiko" as he urged the faithful to welcome the elderly in the family and learn from this wisdom.
Lolo Kiko is the Filipinos' endearment to the Pope when he visited the Philippines almost two months ago.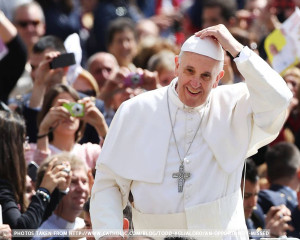 Lolo is the Tagalog word for grandfather and Kiko is the Filipino nick name for someone named Francis.
Before the general audience in St. Peter's Square, the Pope urged the crowd to shun the current throwaway culture by listening to the older generations.
He said a grandparent's words are so important because they can serve as a helpful guide for younger people.
Pope Francis told the faithful how much he treasures a letter his grandmother wrote to him on the day of his ordination which he keeps in his breviary because "it does him good".
He also said the prayers of the older people are "a great gift" for the families and for the Church and they offer "a great infusion of wisdom for all of society, too, especially for (those who are) too busy, too occupied, too distracted."
"In prayer, they thank the Lord for his blessings, otherwise so often unacknowledged; they intercede for the hopes and needs of the young. They lift up to God the memory and sacrifices of past generations," Pope Francis said.
"How I would like a Church that challenges today's throwaway culture with a joyful new embrace between the young and the old," he said. (Roy Lagarde/CBCPNews)
http://www.cbcpnews.com/cbcpnews/?p=52649