SAN JOSE DEL MONTE City, Bulacan – Speaking to some 200 young people, a priest described the process of discovering one's purpose in life by saying that God calls a person "at the right time."
"There are always the right time when God calls each one of us for a specific vocation we are suited to," said Fr. Julius Faa, the Vicariate Commission on Youth director during the celebration of the Holy Eucharist at the San Isidro Labrador Parish on Oct. 8 to mark Vicariate Youth Day.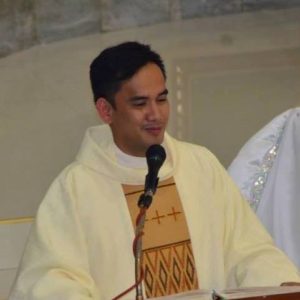 Fr. Julius Faa, the Vicariate Commission on Youth director
(Photo taken from Faa's Facebook account)
Talking to some 200 young people from the 10 parishes of the Vicariate of San Jose, Faa said God's time is perfect.
"By waiting for it and answering to that call, we will be able to do our best for it," he explained.
In his homily, the priest also emphasized the role of the Eucharist in the life of the young, saying it may be the main reason why the youth attend the Church's youth events, not just for the sports and other reasons.
After the celebration of the Holy Eucharist, the young people proceeded to the Brgy. Muzon Gym to enjoy the "laro ng lahi" games and sports such as volleyball and basketball. Matches will be held every Saturday until champions are proclaimed.
According to Vicariate Commission on Youth coordinator Merry Windy Lapidez, this year's activity was aimed to unite the youth of the 10 parishes through games and sports.
"We want every youth member to continue serving in the Church. So, they may help other young people to come closer to God and change lives. By participating in this activity, they can relate to other youth of other parishes and be able to establish a way to connect to the young people, especially to those far from God," she said.
"We believe that being part of the Church, young people may have the capacity to bring back glory to God for all the blessing He is giving us."
The Vicariate of San Jose have the following parishes in its jurisdiction: San Lorenzo Ruiz Parish, San Pedro Apostol Parish, St. Joseph the Worker Parish, Sagrada Familia Parish, San Isidro Labrador Parish, Virgen delas Flores Parish, Santo Rosario Parish, Christ the King Parish, Sacred Heart of Jesus Parish, and Our Lady of Guadalupe Parish. (Ryan Rayos / CBCPNews)