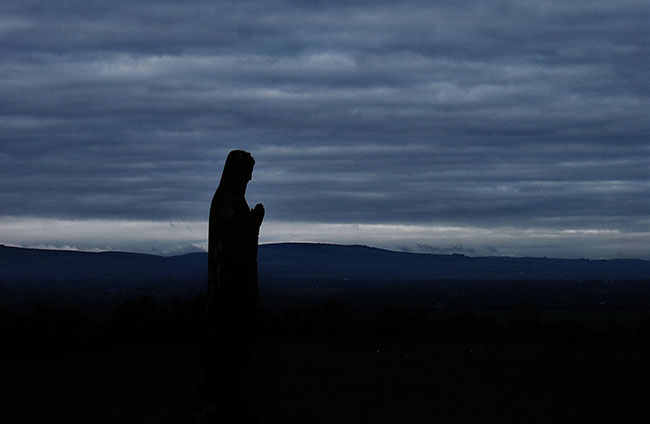 by Abraham dela Torre
SEPTEMBER 21, 1972 is an indelible imprint in the minds of those who were victims, one way or the other, of the horrors of the military legacy of the conjugal dictatorship. When I wrote this experience, I decided it will not see print in September, to not recall the dark month but rather sift out of it the few silver streaks some incidents and personalities imbued with the martial tragedy . If there were nuns who offered floweres and rosaries to soldiers with guns and a throng who gave their bodies to barricade tanks, the present time does not lack of everyday common souls who disprove whatever crisis the country is going through.
I was beating the deadline of the printing of The Paraclete, newsletter of the Holy Spirit Parish. It was a promise I pledged so had to keep. The few times that I went to the YZA business office, I was with Kuya Noel, in his car. I knew enough that the business center (aka shopping center) was right smack in the hub of UP Campus so I thought it would be no problem to go there on my own if the need presented itself. Given my screwed-up sense of direction, I consoled myself that it was no big deal even if I got lost because I am used to it.
And so I planned my tasks that Saturday, September 30. Having done the marketing for the laing ingredients that I assumed to cook for our Praesidium Function in the afternoon of that day, I set them out in the kitchen to return to later. Our dear kasambahay Mean was in Caloocan to get a barangay  clearance so I was pretty much left to my own devices. I tried not to miss her orderly slicing of the spices and reassured myself it'll be a cinch.
Soon I was in Philcoa asking a water vendor if that was where I take a UP campus-bound jeep. His answer was as quick as hailing for me the oncoming jeep to UP. I thanked his nifty trick. Entering the hub, I tried to maximum-recall the place but senior minds play more tricks than the familiar breeds. The driver was solicitous, remembered that I told him to let me off at the business center and, apparently unsure himself, asked a sari-sari store tender where it was; negative was the reply. So I added the hopefully helpful shopping center also, Kuya. Which the lady next to me picked up so volunteered that it's up ahead. I thanked her and apologized to Manong driver but he poo-poohed it goodnaturedly.
At least the business office looked as I remembered it. Jogar, the print person, became familiar only when I saw him again. He put the usb in place, printed a copy and gave it to me to review. There was an error which I pointed out but it was a piece of cake to the techno savvy man. Less than an hour later, I was happily lugging 150 positive copies of the freshly-printed Paraclete. I held on to them dearly like the precious paper that they have been and will always be to me.
Getting a ride was easy so I got on the very first one that came to view. It was an Ikot and I threw caution to the wind. The front seat was all to myself and provided ample space for the paper without my worrying that they might crumple. The jeep cruised as leisurely as the pedestrians going about their day in the campus. That was unchanged. Whether to students, academics or everyman, life in the campus appears basic, uncluttered, unhurried. As cool as the air-conditioned ease of business back at YZA. Where Jogar and his colleagues went about their tasks briskly and efficiently, while trading banter and along with their female superior and with even their clientele.
Flashback. I was in some hall in the campus where the SDK was having a meeting. I was there to beg on behalf of my union members because our funds were depleted and we needed provisions to sustain our picket at Mla COD Dept Store in Cubao. A couple from the underground (who were my friends) has been with us from the strike inception and offered to take us to the group to solicit support. One SDK person asked me to state our case. I started to stammer, found my voice and proceeded to narrate the story of my union presidency's life. A man, obviously a high-ranking officer, stood up and declared that I be spared of the chore and, since imy reason for being there was obvious, recommended to get to the bottom of it. We got their help. That was my first brush with the noble democrats of the state university. Evidently, the nobility has not ceased to rub off on its environment.
Back on the ground and in the jeep, I felt a voice behind my head hinting that if the jeep turns left the vehicle is – indeed – ikot (and will carry me only around and nowhere). The place was becoming familiar and so I asked the driver where do I get a jeep that will take me back to Commonwealth Avenue. His answer was immediate – it was clear to him I, being his sole fare already, was lost – and concerned. My hunch was confirmed when we got to where I hailed him from. I said I owed him additional fare and as immediately he blurted "Okay lang po." He stated matter-of-factly that had he known he would've told me to get off on Central. When we got further on, I saw a line of people in a waiting shed and asked if I could get a ride there. He said that it will get me only as far as Philcoa and he knows of a shorter way. It was more of an advice than an instruction. When we got to Ylanan Street (I got the name from a student later who was walking towards me thereon), he said for me to take the under-construction road and it would lead me to Commonwealth Avenue, in front of the INC structure. I thanked him profusely with a "God bless you" for his calling me Tay.
After depositing my accomplished mission at the parish office, I went home and proceeded to the second item of the day's agenda, my cooking for Mary's legion. The kitchen was a silent kingdom, all to myself with nary a soul to distract my peace and purpose. Even Bronson, our mongrel, was quiet. As I peeled, sliced, crushed, cut, shredded, opened, spooned, stirred, tasted and watched the dish simmer to spicy completion, I mulled on the people I've met and the places I've been to. I felt a smile that promised to cross my cheeks interminably. Then as now, paradise and perfection are only a mindset's creation. The vision could not have been better fulfilled than by the bonding that happily brought together the active and auxiliary members of the Legion of Mary in the praesidium function that night. Which Sr. Mary Grace Puzon, of the School of the Holy Spirit, summed up in her Magnificat-majestic Fiat.
So heartfelt and intense was her closing remarks the memory of my late friend John emerged. Sr. Mary Grace's Fiat reminded me of a beautiful book of poetry he gifted me with, A Woman Wrapped in Silence. It was by his namesake, John W. Lynch, a narrative in sonnet form, which spawned my seven-stanza pieces in similar fashion all published by filcatholic.org.
The only fiat that God ever asked of us, I believe, is to be obediently magnificent in silence. Like Mary's.