By Roy Lagarde | Apr 22, 2017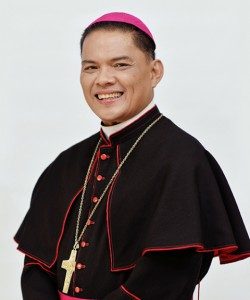 MANILA— In a historic new chapter for more than 2.5 million Catholics in Batangas province, Archbishop Gilbert Garcera was officially installed Friday as leader of the Archdiocese of Lipa.
Some 2,000 people crowded into the city's San Sebastian Cathedral to witness the transfer of authority to Garcera, 58, from retired Archbishop Ramon Arguelles.
Three of the country's four cardinals, including Orlando Quevedo of Cotabato, attended the Mass, along with about 50 bishops and archbishops from around the country.
Government officials of Batangas province and even Camarines Norte, where he served as bishop for the last 10 years, also attended.
Garcera, the 8th archbishop to oversee the archdiocese in its 45-year-history, was greeted by sustained applause after Papal Nuncio Archbishop Giuseppe Pinto officially installed him as head of the archdiocese.
In his homily, CBCP president Archbishop Socrates Villegas of Lingayen-Dagupan told the churchgoers that the mission of a bishop is "to die everyday".
"Archbishop Gilbert comes to Batangas to die for Jesus, to die with Jesus. That's the essence of his ministry. The bishop is called to die and in every dying becomes the herald of the Gospel of Joy," Villegas said.
"You have been a great pastor in the Bicol peninsula, formator of future priests, lay leaders, and the leaders of the Church. Archbishop Gilbert comes to Batangas, carrying only Christ," he added.
Garcera thanked his predecessor, who served the archdiocese for 13 years, the clergy and the lay leaders "for welcoming me into your hearts".
The archbishop expressed a measure of anxiety about his move to one of the country's largest archdioceses, saying it comes with great responsibility.
"Please pray for me as I begin shepherding the archdiocese of Lipa," he said.
He also announced his immediate plans and priorities for the archdiocese which include a pastoral visit to parishes, Catholic schools and various parish organizations and examine existing programs and improve services to the faithful.
"To be an archbishop, to be a bishop, to be a priest is not about position… it's about pastoral charity. According to Pope Francis it's about service," Garcera said. CBCPNews