The reason why I take pictures is to cherish every moment and gather memories in every event in my life. But on November 8, 2013, during the deadly Typhoon "Yolanda", it was different. I wanted to forget every thing. I was able to press the shutter of my camera several days after the tragedy… I want to share the photos in respect to the people who were affected and people who died during the Typhoon. I want to share their stories through my lame and impartial pictures.

I took a flight of a Korean C130 plane going to Cebu together with other evacuees coming from our place, Leyte. People from different walks of life were packed from this small plane. Yet I was moved when someone shared a small sliced bread to other passengers who were hungry. It was example for me of sharing and caring. Thanks to the care of the Koreans and other countries who help our country rise again. I solute you….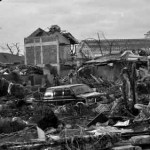 Observers say that people resorted to looting because they were hungry but for me it was not. The reason behind their action were desperation and the cowardice of the authorities by not showing up during the tragedy…

People caught unprepared…
90 percent of the residents allegedly were killed by the storm surge in Brgy. San Joachim. Palo, Leyte
Oh Palo, how can you recover?. You lost your history , you have a tragic present and an obscure future…What awaits you?
The world says that Filipino are resilient..
Ruble after the storm surge in Tanuan, Leyte. This place is one of the municipalities that were badly affected by the storm surge done by typhoon Yolanda.
Even concrete and metal structures cannot withstand the strength of the typhoon.
Survivors
Trucks carried by storm surge.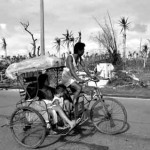 Survivors from the Typhoon Yolanda didn't know were to go when they arrived Tacloban City. They though that they can get relief goods in the city. Yet they realized that relief goods were no where to found that is why others resulted to looting. They came from different municipalities, from Alang alang, Sta. Fe, Palo, Tanuan. They were really disheartened and demoralized when they didn't find food there…

This road is leading to Tacloban Capitol.
When I pass by the town of Tanuan, Leyte I saw people falling in line to get relief goods being distributed by foreigners.