I COULD CRY was my comment on Sis Gelly's remark that the Spiritus Hall of Ruah Center will now be quiet on Friday nights. The function room served as the venue of Totus Tuus Journey, a 33-session pilgrimage of faith (inclusive of outdoor communion with shrines), every Friday night except when there is a change in schedule. Launched at an auspicious date in October (7, 2017, the Feast of Our Lady of the Rosary), the program had an initial 35 pilgrims, who found themselves face to face with Fr. Richard's first ever discussion of Fr. Mario's "Jesus Living in Mary," the book inspired by St. Louis-Marie de Montfort's ardent devotion to the Mother of God. Out of that mixed lot of residents, legionaries, friends of residents and legionaries and renewing TTJers, twenty-two were consecrated on June 9, 2017. Both launch and consecration rites were held at the Holy Spirit Parish in BF Homes, Quezon City. Momentous milestones imprinted in happy memory.
Montfortian missionaries and lay facilitators handled the sessions. SMM Fathers Richard Magararu, Arnel Pagaduan, Norwyn Baydo, Sherwin Nuñez, Rene Bustillo, Benjie Notarte, Fed Yumang and Paul Arnel "Dodong" Lucero alternated with Sis Ana Marie Fondevilla, Bro Milo Casals, Sis Baby Deblois and Sis Seneca Nipa in making Montfort's message known to the participants using Fr. Mario's Marian manual.
World of Awe, Wonder and Energizer
Fr. Richard introduced the manual's first stage, "Facing Reality," through "My Vocation in the World": he came back the next Friday with "Awe and Wonder". I knew early on that the misses I made at my first journey will hit their mark this time, as I committed to make God first in my life plans. I was thankful Fr. Richard encouraged me to vow to be God's coworker by being a co-carrier of Christ's cross. By clinging to each Friday session like it was the last, to make every one last. For, Alas! every one of them, too, came to pass.
"Images of God's Beauty" was the topic Fr. Norwyn handled. He was the first Montfortian man of the cloth who got us to following his dynamic lead, and lapping up every bit of it. Even with eyes closed, I can do an encore of "Isa, Dalawa, Tatlo!" without having to think-think, and with no benefit of a push-push or applause. Also, his was the nugget of the unchanging value of the crushed and crumpled P20-bill, counterpointing sinful and stained man.
Youngish Fr. Arnel took care of "Evil Rooted in the Heart". He enlightened us that evil came before sin, giving us relief in the discovery that knowing and willing sin are two different things until we are already aware of evil and still choose it, which makes the diff.
Returning once more, Fr. Richard tackled "Environmental Suffering" and underscored the Pope's "Laudato Si" sufficiently to make us think twice before we throw our next trash absentmindedly and unconscionably. His subject recalled for me the horrible memory of an emaciated child in drought-stricken Africa, suckling the only liquid at hand from a urinating animal.
Sis Ana Marie's first session was "False Wisdom". She told of a story of Pope Francis, who was asked by a man for a blessing and, in the Pontiff's humility, asked the man to bless him first. Then she prayed Danielle Rose's litany of humility and humbled me to the third power.
The Friday next, Fr. Sherwin contrasted her subject with "True Wisdom," which left us with this credo: I am called to be an instrument of hope. That by embracing the cross of everyday suffering, my neighbor may see that patience and perseverance have their reward. And humanity, despite the hardship, will rise above hopelessness. And he recalled Fr. Hugh Gillespie's advice: "Don't be afraid of the world, no matter how dark. Give it light!" A fitting token of the last session.
Awareness of Self and its Peripheries
Bro Milo returned to open the second stage of the journey, "Awareness of Self". His "My Emotions" informed us that most (of life's) circumstances come from denial and being honest to oneself is not only liberating but also spiritually uplifting.
He was back again with "My Money" and started his session with "What is valuable?" His answer was not his topic's eponym, but our relationship with God, His law, His love, our real value.
It was interesting that, amid his conduct, I observed Ate Gel profer to her youngest brother, Matty, a pen and paper, which he immediately understood to keep him busy and happily proceeded. Their mother, Sis Gelly, was babysitting her daughter Peanut so Gel had to tag Matty along. It's their mutual agreement that no session is wasted and, since they cannot both make it, at least one attends to echo the discussion to the other. It struck me that that was a lot of realization and relationships in what value is all about.
The call segment aimed to keep rooted in wisdom our need to generate and use money for prosperity. The readings affirmed wise people as those who prosper and had Solomon as the perfect example of wisdom because he prayed for it and, because God knew he was the only one of his kind, He gave him prosperity as well. A moment of truth for the perceptors of power, position or possessions to choose between what is material and essential; what aggrandizes the self but diminishes the soul. Most shared their relationship with money as characteristic yet changed or veering towards change. Heartening to hear were the responses to Luke's speaking of rich people without giving them a name, practical nobodies despite their fortune and fame. Because the respondents understood that wealth does not wonders make, when the heart is hollow. I cannot forget Kuya Noel's honesty here when, sharing (and freeing) his frustrations, he committed an indelible "No" to corruption. I followed his lead with a negative to negativity.
Distributing Post-its to the participants, Fr. Rene's instruction was for us to write on it our perception of sexuality. Later, satisfied with our insights, he made an effort at getting to the psychological core of the matter and touched on Jesus' deep relationships with John, Lazarus, Martha, Mary and the woman who anointed Him with expensive oil, a sensual act which offended His companions. Since the topic was touchy, he joked that it made him sweat, but he managed to veer malice away from it and carry it through to mature, responsible enlightenment. Because Jesus' sexuality goes beyond the act, beyond the woman's touch, beyond anyone's imagination.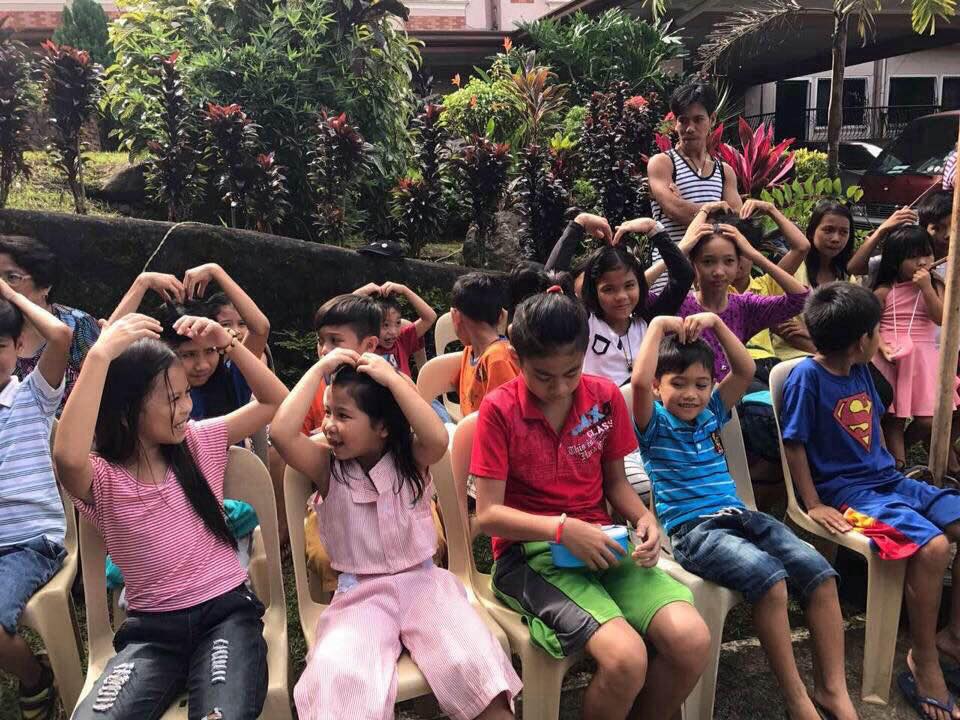 He was humble as he hit himself in one admission where Soc Villegas was personally chastising the "sins" of the clergy and zeroed in on his familiar face, and tacit guilt. And human when, recalling the recent demise of his dearly beloved Mom (who always saved the chicken's liver for her favorite son), he confessed missing her terribly is why he made firmer his commitment to make a difference as a priest, particularly when saying Requiem. He gave me a hard time reconciling his sobriety with the comic tour guide of our pilgrimage to Pangasinan and Tarlac, a role he assumed like an adept all-trades jack. He made light and heavy with memory November 11 and Bataan by being an able conductor, guide, entertainer, clown, prayer leader, all rolled into one sweet stick of dynamite. Such was his energy it warmed the cold of the bus all throughout the two-way journey.
Sis Ana Marie's return brought along with it "My Body". She proclaimed that, since the heart is the totality of the person, the will is more mind than heart. No one disputed that, having learned from previous discussions that man's free will caused his downfall and expulsion from Eden. A purveyor of spiritual trivia, this saintly repository of information never ceases to pull a rabbit out of her holy hat. It was from her that we learned the neat trick of turning our commitments into an acrostic of our names. A musical person, she often regaled us with melodies to accompany her presentation. I still have the butterfly we never got to color collectively (she rued the time lost therefor but was confident we'd cinch it – I know I did!) and, long before that, reading materials she is wont to give away when the mood hits her, which is always ever.
"Faith Without Work is Dead," is how Fr. Arnel started his "My Work" come-back. Encapsulated below are the nuggets he shared in that second encounter.
Faith, baptism and grace equals salvation, which is freely given, yet we have to work for it.
Tala Leprosarium patients have faith that awes and inspires;  their works uplifted the place.
Conversion is a matter of choice; without work, faith is caprice.
The difference between good and evil is love.
Loving the unseen God leads to loving your visible neighbour.
Fr. Arnel wonderfully proclaimed the work that is cut out for us. Which paved the path for the next session, "My Higher Purpose," Fr. Benjie's first foray into our fold. He was the humorous half of Fr. Rene's pilgrimage guide who kept us amused and awake for the duration of the tour. He said that we learn who we are by understanding and affirming our higher purpose. That sparked an inspired exchange of purposes from us which I shared in one of my fb posts. To mark the end of the second stage.
Do We Know Mary?
The first topic of stage three was "Mary and the Incarnation". For his drumroll, Fr. Benjie used "Mary Did You Know," a haunting hymn to the Mother of Christ, as fitting to her fiat as it hews to hardened hearts. Said he: A child of God is a child of Mary. Even those who, in response to Sis Angel's query, do not believe in her.
"Mary and Christ" was Sis Ana Marie's way of discipleship. She shared: Mary and Jesus are inextrucably linked. While it is acceptable to be devoted to both or either of them, the ideal way is to turn to the tree (Mary) to discover the fruit (Jesus). And she told us of a holy joke that Peter was asked by God why there were so many people milling about heaven. Peter answered that it was because when Jesus closed the gate, Mary opened the windows.
I had to leave early the Friday Sis Baby was talking on "Mary and Baptism" I stalled a little to hear her. I did not regret my resolve for I caught "No prayer is wasted for all prayers are answered."
Bro Milo's next subject was "Mary and the Holy Spirit". He recalled that, because God is so enamored of Mary's perfection, the Holy Spirit (probably) played favorite, too. He hastens to a soul that has her. Inspiring me to agree that God does not forget because He is faithful. Especially when He appreciates when we are, like Mary, humble. Here, Kuya Noel was happily pushed by Ate Malou to share the rosary, which strikes them as full of Mary, therefore, grace-laden, and the humility of the triune God in one creed, five Lord's Prayers and five Glory Bes. Mary's presence, again, is felt in her invocation to Jesus at the end of each decade. Yet that was not as humbling as this father's humility to humble himself as humiliated when "harassing" his kids.
Equally empowering was Sis Ester's entreaty that God not only cannot, but will not, work without the Holy Spirit and Mary. No, indeed, God will never work without the mother of His Son knowing He would walk on water, and deliver His deliverer, among the others. God was with Mary because of her humility. Because she was obedient, albeit overwhelmed, with her first "Yes," up to her second affirmative at the foot of the cross, however humiliated. She was standing, yes, because she was not overcome, because she was steadfast even in doom.
In Fr. Arnel's "Mary and the Church," we learned that Mary and the Curch are mothers essential to Christian faith. Ideally, the Church ought to mirror Mary. But being "people," she is susceptible to sin, unlike Mary, who is sinless by grace. That is why the Church always renews herself.
Fr. Fed's very first session, "Mary and the Cross," gave us a new way of looking at and embracing the cross. Compared to Mary, who worried and searched for Jesus for three days, and was rebuffed by Him, our mothers nowadays go ballistic already when at 10 pm, their dear sons and daughters are not home yet. The diff? Mary was full of grace; the mothers of selves. Ergo, they did not ponder. Fr. Fed's counsel was, "Things happen, a fact to be accepted. When hurt or worrying, ask God so that there will be an answer, without fear that God will be insulted. Then you will remember God's goodness." Abbreviated, it goes like this: Accept, ask, feel, remember, go, glow, grow.
After sharing a sword that pierced (and eventually put to peace) his heart, Fr. Fed gave us a shield from those who do not believe in (therefore, bash) Mary. He doesn't know how to deal with them. If we really believe in Jesus, we do not deny His mother Mary. That is error-free.
Stage three's final chapter was "Mary and our Holiness," mirrored by Sis Ana Marie. In turn, we gave her our reflections. Ate Taki testified that Mary was sent to her by Sis Gelly (I could not disagree). Sis Ester used to be a thinking, not feeling, person (can't blame my psychologist buddy) but thru TTJ, Mary works hard for her. Ate Isa credits Sis Tess for getting her to join the Legion of Mary, which brought her closer to the latter. Ate Gel doesn't understand (she lost her Dad last year) but knows that God's plans are bigger than her. Kuya Joel still prays the Memorare and, through TTJ, understands Mary more, enlarges his heart and embraces suffering. Ate Guia believes TTJ will make Mary known. Her husband, Kuya Boy, lost his Mom when he was 6 and never felt a mother's love; Mary made him feel. Manang Cynthia used to fall asleep saying the rosary. After reading the Secret of the Rosary, she now prays it.
Understanding Jesus Better
The fourth and last stage, "Towards the Likeness of Christ," brought back mini Mario, our dear Fr. Dodong, and my all-time favorite "Jesus and His Humanity". Because, in spite of my misgivings about my confidence, Sis Gelly did not allow me to back out of echoing it back for some who missed the session (and she assigned me twice!).
All over again, it felt like the Holy Spirit prodding me to repeat Fr. Dodong's question "What is consecration?" and, after pleasant, pleasing responses from my mini audience, I zero in on his template "being set aside for holiness". With my notes to back me up, it was a piece of blessed cake to breeze through his proclamations. Like, Pure Interior Trustful Constant and Holy as the Marian way to consecration and renewal. And Listen Evaluate Nurture and Transform and Easter Awakening Surprises Transformation Encounter and Risen as the human steps towards holiness. Sis Ana Marie comes to mind as his loyal disciple who learned a lot in his classroom.
And as anecdotes go, Fr. Dodong has an arsenal too expansive to enumerate. The most vivid of them is that which remembered his ordination in Rome, with Pope John Paul II, a liquid reminiscence.
His loyalist, Sis Ana Marie, inspired me enough to share "Jesus and His Word" with "Jesus is my paradigm shift." And she agreed, saying, "To teach is to touch a life forever."
We couldn't get enough of her and was delighted the next Friday when she took care of "Jesus and Love". In our sharing, Ate Mom reflected that if Popes are captivating already, what more of Jesus? Kuya Ed is captivated by the innocence of His eyes. And Kuya Noel, as candid as ever, exclaimed: I'm an Old Testament guy. If somebody initiates, I get even, a matter of mindset. But because of pondering, no more knee-jerk reactions, except for jerks.
"Jesus and the Cross" was the first and last session of Sis Seneca. Seminal as her many credentials, she posited that Newton did not create the law of gravity, merely discovered it. As sure as Adam fell by the tree, and Jesus rose by it. Because He had a choice but did not choose; could not give up His love for man.
Said Sis Ester: He is God and man. I was not aware of my suffering when I was young. Lack of faith is worse than suffering. Sickness is grace. Acceptance, not denial, makes suffering fruitful. If you knew her like I do, you'd be fruitful, too.
As his ultimate take, Bro Milo offered us "Jesus and the Disciple". He had an onion for his objective, creation's complicatedness, which we have to peel the layers of, one by excruciating one, to get to its core. Or else, he demonstrated further, why do we cry when we cut the spice? Because, he provided, the process is akin to dying to oneself, coming to terms with our sinfulness, right smack in the creation's center, reestablishing intimacy with Jesus, the work we have to do. Because, he continued, we see ourselves only on the surface. No scientist will discover God's love unless he believes in it.
I definitely ayed when he declared, "Why would God create when He is complete? Especially if His creation turned." Concluding that, "To encounter Christ, we only have to be ourselves, not perfect."
To which Kuya Boy prayed, "Lord, kunin Mo na free will ko." Which was Bro Milo's prayer, too.
Welcome was my word for the fluid and erudite Fr. Sherwin's "Jesus and Consecration". Pegging Bro Milo's perfect premise, and Fr. Dodong's quip on consecration, he called it giving all to God through Mary, like Christ's death on the cross. Because, he added, perfection is not – never – according to the world's description. Highlighting it further with a Benedictine quote that (to me) explained why priests wear white: to cover themselves with Christ.
He saved half of the session for our recollection.
Fr. Dodong's last audience with us was "Marian Consecration to Christ-Wisdom". And his ultimate question, "Why consecrate?" Because (we didn't wait long), we need to be holy as the Father is holy. Then all the things in heaven shall be added unto us.
As though he hated parting, Fr. Dodong taught us an energizer, "Kumusta Ka," which betrayed his feeling. The trick was a hit. And so were his anticipated quips and anecdotes. Most memorable of which was the tale of a little girl and the P14.75 miracle. His question for reflection was: How would we describe, by way of words, drawing and symbols, our 33-day journey? He asked us to give our answers after the break, like Jesus going away first to pray, consecrate and, he didn't mince it, die.
The insights were precious and personal and enough to make one cry.
At the Recollection, Fr. Sherwin showed us Lea Salonga's "Journey". Then the epitaph on Montfort's tomb. And Montfort's imperfections when he was starting out in the priesthood. Until the saint allowed himself to be molded in the womb of Mary.  And embarked on a mission to proclaim the Gospel and renew the face of the earth. We are not clones of Montfort, he announced, but imitators of Jesus and Mary's obedience.
Finally, he showed an animated film of "The Monk and the Monkey". At the end thereof, he asked for our insights. Which Ate Car succinctly spelled out thus, Mission for Others in Need is the Key.
Screaming Silence
When I visited the hall recently, the silence screamed at me. Thankfully, Mary of the Pentecost, its constant, silent sentry, greeted me calmly, making me stop before her to pray. The quiet did not change; stilled my emptiness to cease gnawing at space. Prayer took its place.
I stared at the parish pull sound system. It will no longer amplify the facilitator's voice when the participants strain their ears to hear more of him or her. Kuya Arnel will no longer need to bring extension outlets and wires to reinforce the hall's meager resources that miraculously serve a sufficient purpose commensurate with their frugality. I recall Sis Ana Marie making do with neither mic nor projector; her vast memory bank reliably subbing for otherwise crucial, visual gadgets. Ate Relly will no longer prepare plates and sundry tableware for our snacks. The IDs and their accessories will have to hibernate somewhere in our house until the next pilgrimage is announced (on the same hallowed ground, it is hoped). Sis Gelly will no longer swap babysitting task with daughter Angelica (whose angel Peanut is a nanny's delight). Nor fetch and drive back the friendly facilitators. I will no longer dread introducing the speaker she suddenly assigns to me, resisted then but sorely regretted now. My fellow renewers, Ate Bubbles, Sis Car and Irene and UtoLiza, will no longer keep us company when Friday comes. Kuya Bernard's provision of hot and cold drinking water will cease to squeeze in as a portion of nourishment for body and soul Spiritus Hall has come to symbolize. He will no longer sweep its floor and arrange its chairs and tables. I could not imagine a lonelier place.
Fridays will not only be quiet but also nostalgic, nursed and nurtured as it were with mushy, sad, jovial, lively, energetic, even funny sharings of insights on the call, response and commitment segments of the book we all have learned to hold dear and look forward to. And the three crowns we have embraced as abbreviated chains of roses for Mary, when time is short for the final prayer segment. Yet we are solaced by the commitments we have faithfully chronicled in our journals, and revisit one by one, when Friday memories haunt and the only palpable link to them are the book and our marginal notes, on them and our notebooks, guideposts we can count on as we continue the daily task of reliving what we went through, trusting that life continues more beautiful and better in Jesus through, with, in and for Mary.
I did not hold my lachrymose horses. Buoyed by grace that my transition inches its trip in quiet increments. And prayerful even if I'm still a worm wriggling its way to worthiness.
ABRAHAM DE LA TORRE