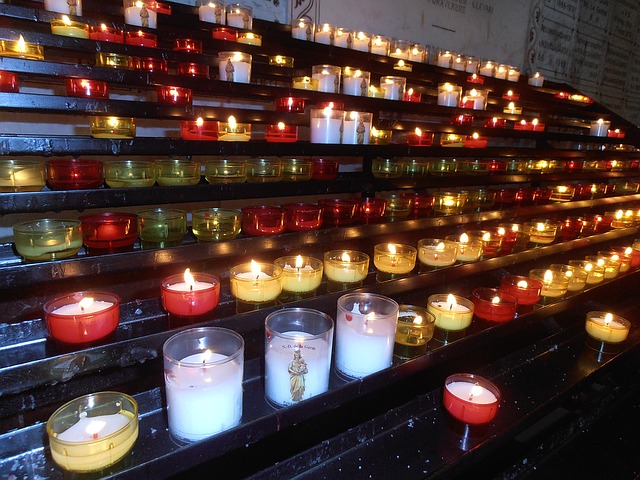 Is it some sort of superstition?
Almost nothing says "Catholic" like votive candles, especially if they are placed before images or statues in a church setting. When a film or television show wants the audience to know a character is Catholic, a confessional or a rack of votive candles is sure to turn up.
Confession, of course is a sacrament, but what about those candles? Are they a superstitious practice?
Actually, just the opposite.
"I am the light of the world; he who follows me will not walk in darkness, but will have the light of life" (John 8:12).
At our Easter Vigil, when the deacon or priest enters the darkened church with the single Easter candle, he intones, "Christ, our Light." To which the congregation replies, "Thanks be to God." This recalls how Jesus came into our world of sin and death to bring the light of God to us.
Besides being used to illuminate the places where the early Christians celebrated Mass, candles were also lighted at the tombs of martyrs. Father William Saunders explains that "there is evidence that lit candles or oil lamps were burned at the tombs of saints, particularly martyrs, by the 200s, and before sacred images and relics by the 300s."
In this context the "light signifies our prayer offered in faith coming into the light of God. With the light of faith, we petition our Lord in prayer, or petition the saint to pray with us and for us to the Lord." The word "vigil" comes from the Latin vigilia and refers to keeping watch. The vigil candle that is lit remains so for a period of time (either a certain number of hours or a few days) and symbolizes how the person desires "to remain present to the Lord in prayer even though we may depart and go about our daily business." It also reminds the individual how the saint is constantly praying for their petitions.
Another word for these candles is a "votive" candle and comes from the Latin votum, meaning promise, dedication or simply "prayer." It reinforces the idea that the candles represent our prayers before God.
As humans, we are body and soul and our prayers often need to be expressed in a physical, tangible way. This helps our soul be at rest and is a way to deepen our spirituality. Similar to incense, the light of the candles is a physical reminder that points our souls to God. We light them not because we believe our prayers will be better heard by God, but because we need something visual to connect our body and soul.
Read more at Aleteia.com