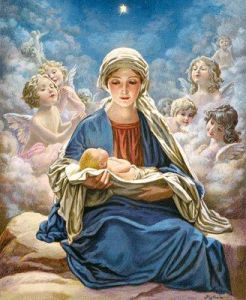 Meanne M. Mijares
"Behold thy Mother…" (John 19:27)
"Can a mother forget the baby at her breast
    and have no compassion on the child she has borne?
Though she may forget, I will not forget you!
Isaiah 49:15 New International Version (NIV)
For the whole month of May, we celebrate mothers. And that includes of course the Blessed Virgin Mary Herself for as we all know She is the Mother of Our Lord Jesus Christ. During His final hours on earth, He said "Behold your Mother" to St John the Apostle who represents the entire humanity. How amazing it is how so many Filipinos have developed such a close relationship with Her through prayers and devotion. Maybe because we live in a matriarchal society and having an image of a loving and protective mother is one that we can certainly connect with so instantly.
There is also something very comforting about having a mother we can go to, regardless of your age or gender to just be like a child needing his or her mother. In honor of the Blessed Virgin Mary this Mother's Day, here are some of Her different but special titles that we cherish and hold so dear in our hearts:
Our Lady of Guadalupe. First, a 9-day novena prayer was given to me by a family friend Tita Lydia which dates back to 1988 after my maternal grandmother Lola Meding passed away. Then a beautiful image was given to me by my mom as a birthday gift when I am already working. Then I bought a book titled Guadalupe: What Her Eyes Say to know more about the apparition and the fervent devotion people had for Her. Many years have passed I met a good friend named Laura Rios from Guadalajara, Mexico through Facebook and she shared with me stories of her visits to the Guadalupe Shrine. I am quite sure you are all familiar with the famous story of St Juan Diego, a Mexican-Indian convert who saw a very beautiful lady clothed in a brilliant light, on top of a hill. She asked him to build a church on the site where people could come and share in Her love, compassion and protection. Unfortunately, Bishop Zumarraga did not believe Juan and asked him to bring tangible proof of his miraculous encounter with the Lady. Then on Her fourth apparition, where She uttered the famous line "Am I not here who am your Mother? Are you not under my shadow and protection? Am I not your fountain of life? Are you not in the folds of my mantle? In the crossing of my arms? Is there anything else you need?" She then instructed Juan to go and pick flowers from a stony and desolate place in the mountains. Upon arriving, Juan discovered Castillan roses which were neither in season nor native to Mexico. He took the flowers, which our Lady Herself arranged in his tilma (a cloak made out of the fibers of the maguey cactus) and then off he went to see the bishop. They might have felt goose bumps when Juan opened his tilma and aside from the cascading roses, an exquisite image of the Blessed Virgin Mary appeared, miraculously imprinted on the fabric! The tilma only has an average life span of 30 years but this particular piece stood the test of time with the portrait of our Blessed Mother, Santa Maria de Guadalupe as fresh and vibrant as though it were only yesterday that she imprinted Her image on the cloak. She is the patroness of the Americas and also the secondary patroness of the Philippines. Her feast day is on December 12 the same day she appeared to St Juan Diego in the year 1531. The stars in Her mantle are precisely arranged in the same alignment or pattern as the constellations in the sky that day which has allowed scientists to confirm the said apparition date.
Our Mother of Perpetual Help/Mahal na Ina ng Laging Saklolo. We all know that every Wednesday is officially Baclaran Day where devotees of our Mother of Perpetual Help come together to visit Her shrine which is open 24/7/365, if my memory serves me right. One time when my family was there, we see many people from all walks of life lighting candles, hearing Mass and making their way to the altar on bended knees and there are devotees praying quietly in their little corner. We find Her image not only in the Baclaran Shrine but also in most churches and homes. Almost every church throughout the Philippines holds a weekly novena on Wednesday in Her honor. My late grandmother gave me a perpetual help image and novena which I still have to this day. She used to tell me that many of her prayers were granted by our Lady, so whatever needs I may have or problems I may encounter, I will feel the Blessed Mother's presence and answer my prayers in a way that I could not imagine! She was right! Our Mother of Perpetual Help is the kindest and the most loving and tender of all mothers. Her feast day is on June 27.
Our Lady of Manaoag/Apo Baket. The image of the town of Manaoag, Pangasinan is taken from the Pangasinense word mantaoag, meaning to call. According to the novena literature, that the choice of this particular word is taken from the apparition of the Virgin Mary to call farmer which dates back to 1610. He spoke of a voice that called out to him as he was making his way home. When he saw around, he saw the Lady floating on a cloud atop a tree. In Her right hand, She held a rosary while Her Son Jesus Christ was on Her left arm. She told the farmer to build a shrine on the spot where She appeared. From there, a town grew around the church which became known as Manaoag, in honor of the original call. As the church was built, a Spanish 17th century ivory statue of the Blessed Mother holding a rosary and the Child Jesus was used, in accordance to what the farmer saw in the apparition. It was brought to the Philippines by Fr. Juan de Jacinto through the Manila Galleon. From a small shrine, the church has been elevated and is now known as the Minor Basilica of Our Lady of the Rosary of Manaoag. Many Filipinos can attest to more than a hundred million miracles through Her powerful intercession. My family and I are always grateful to the Our Lady of Manaoag. She saved my father from the earthquake (he was in Greenhills at the time for work), my mother made it to the Real Estate Licensure Board Examinations. When I entered the academe, my godmother (in the sacrament of confirmation), a medical practitioner, gave me a novena to the Lady of Manaoag. It was so precious to me because answered prayers come so quickly most especially when the time I need it most. My family and I visited the Shrine to hear Mass, light candles, drop our petitions, line up to kiss the veil (Manto) of our Lady and say our prayers. We also bought items from the souvenir shop and goodies on our way home. We met Sister Loleng and Lola Manaoag, an old woman who is at the Shrine every day during our picnic area located at the back of the Shrine. They were good and caring women. Before we left the Shrine on one particular Sunday, they gave us a huge and small photo of the Lady. We had it framed and hold a place of honor to this day in our living room whereas the small one (with Lola Manaoag posing beside our Lady) I keep it safe in my prayer booklet. We heard from Sister Loleng that Lola Manaoag has gone to receive her eternal reward. Manaoag devotees confirmed that when Apo Baket (Venerable Lady) crosses your mind you must NOT ignore her. It is a clear sign that you go visit Her, whether in Her shrine or inside your heart. She knows if you have a problem and is calling you to come to Her and She will help and answer you. She has two feast days April 25 and October 3,
Mary Help of Christians/ Maria, Mapag-ampon sa mga Kristiyano. I first saw this Marian image together with a novena in an old prayer book when I was in grade school. Then my late grandmother has a calendar in her room with the Blessed Mother and Her Son in the main cover photo. And when I was in my early years in events management, I attended a wake of a good family friend who passed away in 2002, a dentist ( a Bosconian and De La Salle graduate), I went to the Don Bosco bookstore and bought a complete 9 day novena to Mary Help of Christians. At the back of the novena prayer St. John Bosco said: "Have devotion to Mary Help of Christians, and you will see what miracles are!" A few years ago, I received answered prayers from Her and I was grateful and overjoyed! Let me share with you a brief historical background on the devotion: According to catholicnewsagency.com, on May 14, 1862, Don Bosco dreamed about the battles the Church would face in the latter days. In his dream, the  Pope of those days anchors the 'ship' of the Church between two pillars, one with a statue of Mary (Auxilium Christianorum or 'Help of Christians') and the other with a large Eucharistic Host. St. John Bosco wrote about his congregation, the Salesians:"The principal objective is to promote veneration of the Blessed Sacrament and devotion to Mary Help of Christians. This title seems to please the august Queen of Heaven very much." The Salesian Sisters of St John Bosco or Daughters of Mary Help of Christians, are the sister order of the Salesians of Don Bosco. St. John Bosco, himself, on June 9 1868, dedicated to Our Lady Help of Christians, the mother church of his congregation at Turin (Italy). The Salesian Fathers and their Sisters have carried the devotion to their numerous establishments particularly in the Philippines, the National Shrine of Mary, Help of Christians in Paranaque City. The Feast of Mary Help of Christians is celebrated on May 24.
Immaculate Heart of Mary (also known as the other half of the Twin Hearts of Jesus and Mary with the Sacred Heart of Jesus on the other side) The image of our Lady with Her Heart pierced and on fire is one we all grew up with. The piercing depicts the 7 sorrows as the Mother of God who had to endure the unspeakable pain and suffering of Her Son's crucifixion caused by the sins of all mankind. She is shown beside our Lord and His Sacred Heart overflowing with love for us all. Meanwhile, the Immaculate Heart of Mary overflows with love for God and Her Son Jesus. In most of Her images, She is seen pointing to Her heart. This has been taken to mean that She wishes to unite the entire human race with God through the imitation of the virtues and purity of Her very own heart. During Her 3rd apparition at Fatima, Portugal on July 13, 1917, She said, "God wishes to establish in the world devotion to my Immaculate Heart. In the end, My Immaculate Heart will triumph" in order to save souls from hell and bring about world peace. I just hope that this holds true in the reunification of Korea. The feast of the Immaculate Heart of Mary is on June 28. For a long time, I have been looking for a novena to the Immaculate Heart of Mary (as I was used to seeing only stampitas). My prayer was answered! I already got one and I give some copies to those who might need help with it. This is the devotion rich in indulgences every time it is being said. It is almost a decade already when I suffered from depression and heartbreak that I have recourse and devotion to the Hearts of Jesus and Mary. They catch my broken heart right on time and never allowed it break nor bleed any further by putting it on spiritual rehabilitation. It was through Them that I am able to keep still even when the situation before me was already falling apart. When I look back now, I remember with tears of joy and gladness the goodness and grace of God through Our Lord Jesus Christ and the Blessed Mother Herself. I read somewhere that God said, "Look back in your time of need and how much I have been of help to you."
I could go on and on as there are still many more images and titles that we know the Blessed Virgin Mary as, but what truly matters most is how much we love Her in our lives. In Her, we have a Mother who is always looking after us and we are safe in Her loving and warm embrace.
Happy Mother's Day to You, Our Ever Dearest Mama Mary!