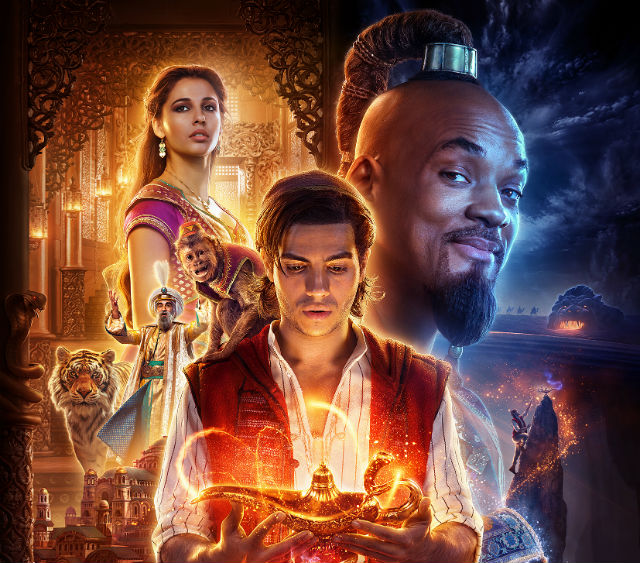 Meanne M. Mijares
"The integrity of the upright guides them, but the unfaithful are destroyed by their duplicity."
 Proverbs 11:3 (NIV)
"Then you will know the truth, and the truth will set you free."
John 8:32 (NIV)
Directed by      Guy Ritchie
Produced by    Dan Lin/Jonathan Eirich
Screenplay by   John August/Guy Ritchie
Based on Disney's Aladdin by Ron Clements, John Musker, Ted Elliott, Terry Rossio
Aladdin and the Magic Lamp from One Thousand and One Nights
Starring           
Will Smith (Genie)
Mena Massoud (Aladdin)
Naomi Scott (Princess Jasmine)
Marwan Kenzari (Jafar)
Navid Negahban (The Sultan)
Nasim Pedrad (Dalia)
Billy Magnussen (Prince Anders)
Music by Alan Menken
Cinematography Alan Stewart
Edited by James Herbert
Production company Walt Disney Pictures
Distributed by Walt Disney Studios
Rating: PG
Aladdin is Disney's live-action remake of the 1992 animated classic. As with previous adaptations like Dumbo, Jungle Book, and Beauty and the Beast, there are many computer-generated special effects, including the creepy Cave of Wonders and co-stars Will Smith as the huge, comedic, blue-ish magical Genie. The effects and the live-action factor comprise perilous scenes feel more more intense than ever than it was in the cartoon. There are chases, falls, and near death experiences, as well as one confirmed fatality when the villain Jafar pushes a man down to a dark well. The cave falls to pieces and vomits lava, a giant bird chases the characters, guards are armed with weapons, and there are references to dead parents. Language is very mild, with just a few insults along the lines of "street rat"; characters seduce and kiss, and Genie throws back a couple of martinis. What I like about the new stars Mena Massoud (Aladdin) and Naomi Scott (Jasmine) is that they were able to keep the spirit of the original animated feature and has a touch of female liberation and equality to sending appropriate messages about friendship, courage, integrity, and honesty.
THE STORY
ALADDIN is about the mischievous street rascal Aladdin (Mena Massoud) and his adventures or misadventures. On the busy streets of Agrabah, Aladdin meets a beautiful young woman who says she's a royal dama but in truth the kingdom's cloistered Princess Jasmine (Naomi Scott). Meanwhile, the sultan's megalomaniac vizier, Jafar (Marwan Kenzari), finds someone worthy to enter the legendary Cave of Wonders to dig up a special lamp that's hidden inside. When Aladdin and his companion monkey, Abu, snitch into the palace grounds to find their new friend, Jafar captures Aladdin, reveals that the "handmaiden" is none other than the princess, and orders the younger man to get the lamp. What Jafar doesn't count on is Aladdin himself unbridling the lamp's power: a big blue genie (Will Smith), who's guaranteed to accord him three wishes. With the Genie's aid, Aladdin becomes "Prince Ali of Ababwa" to pursue the lovely Princess Jasmine.
EDUCATIONAL VALUE
Kids acquainted with the animated version will learn about editions and the influence of live-action stories against the animated ones. They'll also learn about the importance of being honest with themselves and of women's worth as leaders and prime movers.
POSITIVE MESSAGES
The film is about looking beneath the surface (social class, rank, etc.) to truly know who people are inside. Other positive messages include the idea that women — not just men — can be great, formidable and inspiring leaders and that real connection and love exceeds shallow differences. Aladdin upholds the value of revealing the truth, valuing honor, friendship, putting others' welfare above our own, and the ability to break free from obsolete traditions.
POSITIVE ROLE MODELS & REPRESENTATIONS
Aladdin is like Robin Hood, a robber, but he also helps others who are even less fortunate and cares about the people – and most especially, the princess. He's ingenious, brave, and kind. He is trapped between the advantages of wealth and power but eventually remains true to himself, establishing integrity. Jasmine is intelligent, thoughtful, and compassionate. She grows to love Aladdin for who he is and not his status. The Genie, despite being a slave to his master, is full of good advice for Aladdin, thinking of his welfare. He's supportive and forthright and imparts to Aladdin about friendship. Jafar is manipulative truly a certified villain. I have observed that the Sultan is a little less clueless here than he was in the previous animated musical.
VIOLENCE & SCARINESS
The Cave of Wonders, I must say, is chilling; when Abu breaks the rules, it smashes and pukes lava, nearly killing Aladdin and Abu. There are falls and perilous climbs, pursues and flights. Jafar thrusts a man to his death in a dark, eerie, spine-chilling dungeon and later uses his powers to vanish people and torment the Sultan; he also tries to kill Aladdin by shoving him, bound, into the water (it's a tense scene for a few moments while Aladdin is in critical danger of drowning). An enormous bird chases the heroes, causing damage. Jafar is frightening when he employs his jam-packed powers. The Sultan's armed guards take hold of various people and chase and capture Aladdin. The Genie is forced to make even treacherous wishes come true. There are arguing scenes. There are references to both Jasmine's mother and Aladdin's parents being dead. The magic Carpet is broken during an action scene, which could upset some young children.
SEXY ELEMENTS
Flirting, hand-holding, dancing, and a few kisses, here and there. I was quite taken aback when the Genie makes a double-meaning comment about "feeling a little thirsty" after staring at Jasmine's handmaiden, Dalia; Dalia calls the Genie "incredibly attractive." I have sensed a possible reference to someone regarded as "hot" (hard to hear). In one song lyric, a woman calls Aladdin "tasty", which signifies lust.
LANGUAGE
I have heard some insults like "street rat," "riffraff," "nothing," "scoundrel," "thief," etc. Woman hater comments like Jasmine should "be seen and not heard," "be silent," "hurry up, woman," etc. I am afraid that children might pick it up and use them to say bad things about their classmates or other people.
DRINKING, DRUGS & SMOKING
The Genie has martinis on a couple of occasions. Not good for the children to see.
CONCLUSION
Good thing, this film bolsters a strong line-up for its casting and a great soundtrack. I must say, Disney's live-action remake is significantly better than expected, even if Smith's Genie isn't as outstanding as the late Robin Williams' original role. With his curved smile and sober voice, Massoud is flawlessly cast as Aladdin. He has a lovely interaction with Scott's Jasmine, who's much more of a women's libber here than in the animated musical. Naomi also proves to be a fine singer, although Jasmine's new original song "Speechless" feels somewhat imposed. Aladdin and Jasmine's duets are well executed, and "A Whole New World" still packs an emotional blow. Kenzari is credibly ruthless as the go-getting, evil Jafar, and Nasim Pedrad is quite good as Dalia, the real — and entertainingly dogmatic — royal handmaiden who captures the Genie's eye.
As for Smith, whose role has been widely roasted on social media before the film was released in the theaters, let's just say that he's much easier to handle in disguise as Prince Ali's human adviser, rather than as the somewhat repellent blue Genie. And Smith is surely funny, but his presentation of the genie's signature song, "Friend Like Me," can't live up to Williams' moving, fast-moving delivery. The movie's got high production values. The action scenes are more of Guy Ritchie's forte, and he even manages to comprise his special slow-motion shots in a few scenes. Despite the heavy focused promotion on Will Smith here as the Genie, Aladdin ultimately and rightfully so belongs to the new rising stars, Mena and Naomi.
Overall, I rate the film 3.5 out of 5 stars.