OUR LATE AUNT Nen, sensing his potential, adopted Steve so she may guide and see him him through intermediate school. She was a self-sufficient spinster who lived all by her lonesome in Paracale, Camarines Norte, where she taught and thrived in an elementary school. He was a math wiz whom she doted on ever since (during one of her sabbaticals in Bacood, Sta. Mesa, she spent one summer with our Mom and her family), she took a liking to his prowess, a genius which earned him a scholarship at state-owned PUP.
I can still smell and taste her customary pasalubong toaster-baked delicious doughnuts and the already-fried fish which teemed in that coastal town (although more noted for its gold, notwithstanding the gintong-Paracale-mawala-ma'y-di-bale slur). Yet the only thing I vividly remember about their close affection is when it was time for them to return to their provincial classes. Their mere packing, in preparation for the long bus ride back to Bicolandia, would trigger my waterworks. Which sustained until they have long gone and my eyes all puffed up. No one minded my lachrymose antics because kith and kin have gotten used to them over the many summer breaks the aunt-and-nephew pair spent with us.
Strange that, after our youngest brother Sunny's call, I was not as mushy as Steve's leaving then, when we were children, as when, stalled after his "Hello," he slowly blurted out the predictable news. It was 3 in the afternoon, on May 24, when Steve left. After that, Sunny's speech became hurried and tried to tell me everything that happened before Steve departed, in exactly the same manner that I was already expecting him to be doing at the inevitable wake. Again and repeatedly again.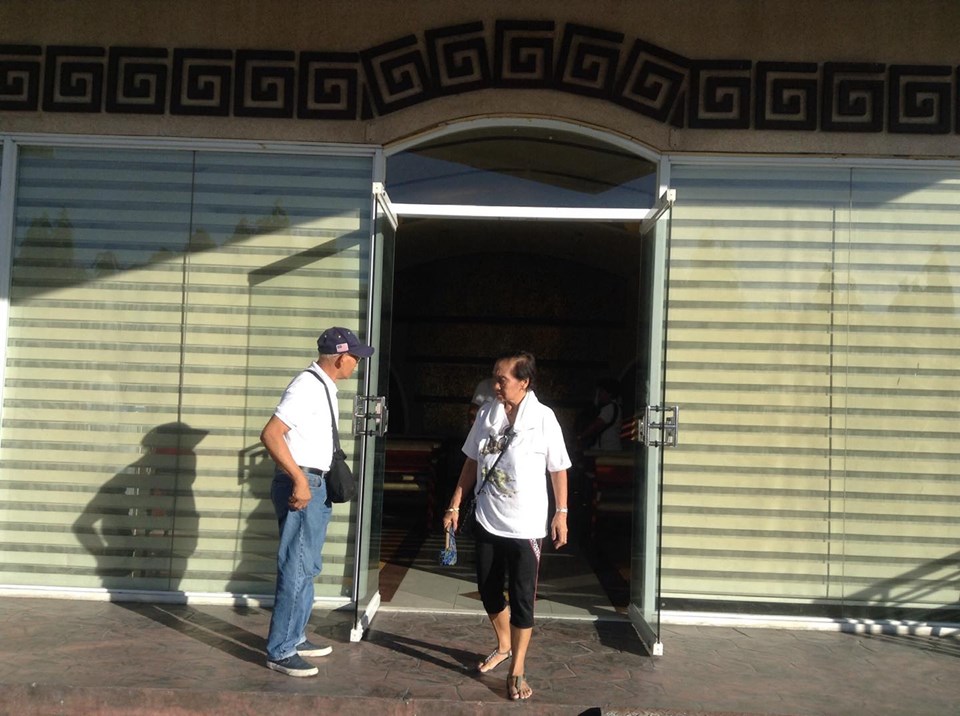 Ironically, I wrote about Sunny, in filcatholic.org's October 31, 2018 issue, whom I feared we were losing. Steve was told by the doctor Sunny might have colon cancer and we kept it to ourselves. My only resort – prayer – was a source of strength and amazingly tided him over. It was doubtless Steve was using the same powerful instrument. He was our brother's keeper and, when Marie decorated Sunny's life, suspiciously retreated into the background, secure in the observed certainty that Sunny will no longer be alone should he decide to disappear, a second certainty that revealed itself to me (and to my youngest son Aesop) when we saw Steve at the hospital, a few days after his confinement.
Stranger was our calm composure. Sunny said it helped that, when I visited just last week to talk to him and Marie to pray for what's best for Steve (having been greatly helped by meager resources), where his waning diabetic capacity to fight seemed to further ebb (he had turned from bad to a bag of practical bones), I enjoined them (Steve included) to pray. After the spare funds our scrounging scraped up, I decided that little, however-often increments would not be able to amount to anything substantial to remove his enlarging bed sore (and the recuperative meds and therapy afterwards) so I prayed deep and hard and talked in earnest to the three of them. I told them God was our only, ultimate resort. Marie did not mind her occasional heartburn (for Sunny would squeeze it in when he was having difficulty with his uric acid) but the couple rode through the ordeal that started in January, when Steve had his first of three brain strokes. Long story short, and a humongous measure of control to point fingers, we agreed that we could only reverse his condition if we had the means. I convinced them that prayer is our power. Which is more than any means. And they agreed. Steve and his usual wide-eyed, bedridden (bedsore as large as a plate), unable-to-utter-intelligibly zombie self stared deeper and further at the ceiling. He punctuated his very slight nod with a solitary tear. Subtly confirming that he was ready. For his more pronounced efforts at concurring and demanding have been reduced to "Coke," "Gator Ade," "palabok," "water" and "kamot". All taboo. Some of which were accommodated. The latest request became problematic Sunny had to wrap his good right hand with a sock and tie it up. The first thing that he greeted me with when I last visited was to untie him (which was not literally meant). It was curious if he felt shackled by that tiny contraption (the second stroke numbed his left arm) when the bed had been riding him for some time. That acceptance helped his docile (and our mutual, tacit) agreement to His plan. He shed the singular tear for good, reassuring measure.
When I arrived at the wake, children were about. Sunny has seen to the service and our brother Steve was positioned exactly at the same spot which Dad and (later) Mom occupied 16 and 7 years ago, respectively. I immediately prayed respectfully beside his casket before condoling with Sunny, Marie and the few mourners with them. The 16 monobloc chairs, arranged before the remains, never filled to capacity, there would be more people outside than with the body, understandably chatting and playing card games more freely than with either Sunny or me or even with Marie. Fortunately, there were rare times that conversation dragged itself to discussing death. I truly appreciated that those who knew us were polite enough to signify their simple sympathy by their calm company.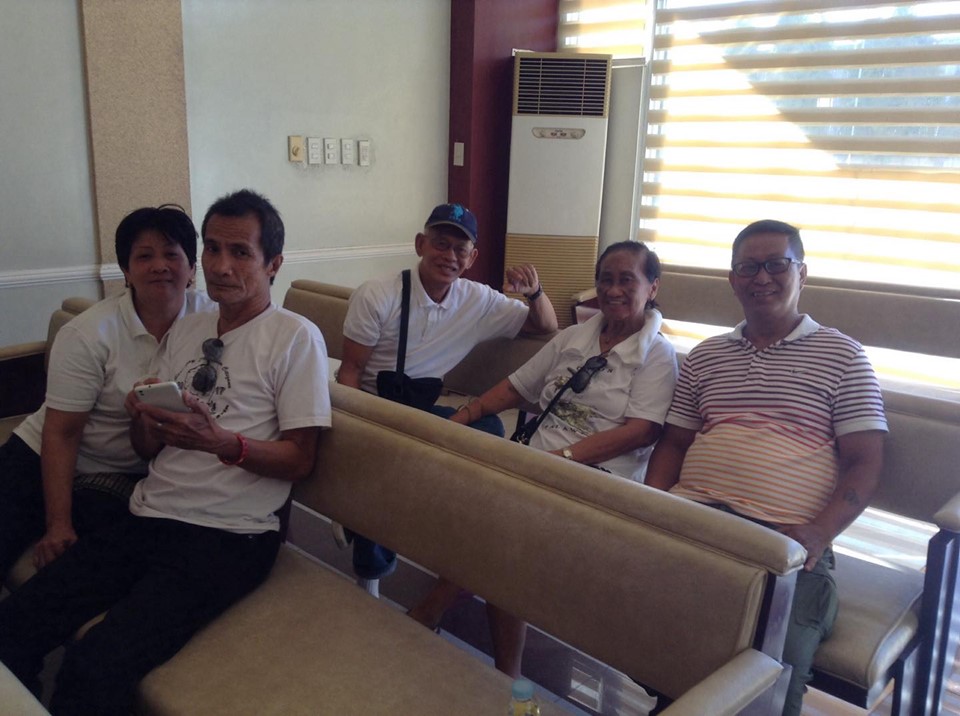 It did not take Ates Bubbles and Maricar more than the customary two hours to reach Laguna for the first time. A curious pair (the former dreads traveling alone to places unknown while the latter ventures onto them like moth does to light), they were drawn together to the mutual desire to condole with me. They not only liked the pancit that Marie prepared, they also alluded to the recently concluded Grand Alay. Enough wick to evaluate and discuss how we can improve on it. Ate Bubbles' impassioned interest for Team Evangelization to pick up where the project left off firmed up Ate Car's resolve to reinforce what's, after all, her original baby anyway. I really liked that we were talking not about death but life and moving on with it.
The mourners have already excused themselves that Monday dawn and a solitary tricycle wended its way outside the wake to deliver the wreath coming from Congresswoman Arlene Arcillas. It augmented the flowers provided by San Ramon Funeral Parlor and, somehow, kept Steve and me company and sympathy, albeit tinted politically. Later, incumbent Mayor Dan Fernandez sent his token and the last to contribute their sympathies were Atty. Melvin and Board Member Ann Matibag. Their names more than connoted power like their tall wreath that towered over the first pair.
I found Manang Fely and Nanding in a three-way chat with Marie. Her son Erwin saw her drowsy already last night so advised her to go to sleep already and to the wake the next day. Nanding declined Marie's offer of soup (he had dinner before coming over) but Manang accepted on the condition that the serving is small. She had it while we talked and shortly begged our leave. Nanding worked extensively in Kuwait. While his fortunate foray in the Middle East offered a life of relative ease, it was not without rainfall. His good wife Diling bumped her breast onto a door knob and the bothersome pain it produced malevolently turned out to be cancerous. That was his introduction to his understanding of how the loss must feel for us. Her death anniversary was six months ago but he ministered to her for for longer years, ultimately quitting a lucrative overseas job to see that she had company in her misery. Lonely quiet moments filled their mutual distress and companionship. I was thankful for his richer experience overseas. It bridged whatever gap that would emerge between us due to the inadequate times I spent with Steve. Nanding's face is naturally sad and solacing I listened more than talk to him for the comfort he expressed without even trying.
Kuya Ben offered his car to be driven by Kuya Rey. They came with Ate Jackie, Kuya Jun and Kuya Tony. Kuya Ben was his usual crowd-warmer when he fancied playing mahjong and augmented the two pale pilsen Grandes that were downed fast. He wanted to play for at least an hour but Kuya Rey was driving Ate Jackie's sister to the airport it cut the game (and the libation) short. Unlike usual partings, however, we waved our farewells happily.
I waved at Mareng Lyn across the street; she made the motion of reacting to my gesture, with hardly a sign of recognition. When Pareng Doming drove their car out of the garage, she got out of it and approached me. She made out my yellow-shirted form, all right, she said, but her short sight couldn't tell who belonged to the figure. I knew I was in for a long listening bout, one I used to mind in the past, but now endured willingly. Expectedly she bounced from the recent hospitalization of one son and the death of another to thankfulness that her sons have married right and settled in comfortable conditions to her only daughter who's still single to her many maintenance meds to have I eaten lunch to would I like coffee to how's my wife and sons all under one breath. I declined everytime she offered I could no longer resist the apple and peach that she proffered the next time we met.
Randall came from driving to Sorsogon and back, a regular routine lately, and ate before catching lost sleep. His aunts, Marie's sisters (Ched and Rachelle) and brother Richard (and wife Des (my godchildren, with son Cedric) passed by the other night and promised to come back on Wednesday, the last night of the wake. They all did return (along with Ritchie, Ramiel and Sarah) but the cremation date was moved to Sunday.
The Digma family (with sons-in-law Parengs Ali, Alvin and Romy) was expectedly, interchangeably present each night (a reliable source of support without being asked or told) and Mareng Cristy was on hand when my family, from an outing in Caliraya, drove directly to Sta. Rosa before going home to BF Homes in Quezon City. Our trusted kasambahay Mean kept her promise not to tell them until they were on the way home already (the fun, therefore, unspoiled). It was our dog Bronson's first long-distance trip and he was understandably foaming up with stress it was a fortunate thing Alex's girl Keena had an inexhaustible patience for pets.
At private St. James Hospital, where Steve was confined briefly (we could not afford the long-term treatment and rehab later), my consolation was its free wifi. The snooty doctor (who was a resident in the village where Steve, Sunny and Marie lived), the hospital staff and its Social Worker were all familiar figures that looked down on indigent-looking clients Pareng Rolly's heaven-sent intervention cooled Sunny's coronary (repeated at the Community Hospital too bloody to recall). Except on breaks from my watch, my link to the internet is short and staggered. The condolences, therefore, came in trickles that accumulated into long matters attended to later. There were pledges that turned out to be condolences way ahead of the need from sources that never showed up.
Lito Ong and wife Bing came in the morning of Tuesday. At once, Lito and I commenced conversing like we did the last time we crossed paths, without announcing a subject, as if picking up where we left off, naturally veering towards death and heaven and God, agreeing disagreeably, to the delight of listening Bing, and Sunny squeezing in every now and then. The good thing about wakes, as long as one doesn't pick a controversial topic to attract attention (and argument), anything and everything can be discussed (not argued) and dragged towards nausea and infinity without anyone paying mind. The busy mouth mercifully takes a lot out of the preoccupied (albeit almost blank) mind.
It's called the multi-purpose hall which served only as a venue for wakes for residents of Roseville Subdivision. It's beside the Holy Family Chapel, probably the justification I used when Dad died, then Mom, and now Steve. My brother's dwelling is now beat-up and falling apart; it was much more convenient accommodating mourners in the hall than in their house. In spite of the former's inadequate facilities: there was only one fuse box we had to use octopus wires to light it up and ventilate the stuffy room; there was no water line and the last user availed of the toilet and let it stank. I had to escort my female guests to the house (or the neighbor's) when nature called. It was kosher, otherwise, for our spartan situation. Which nobody minded. Not Lito, who volunteered again his services in providing lighting extensions, his wife Jessa and their kids; nor Pareng Mulong and Miss B; Benjie and Weng; Ian Arenas; Pong; Belen; Pareng Alex; Pong; Jamir and Michelle; Abby.
Divested of the hospital wifi, I only find time for the internet (at Mareng Cristy's place) when I'm relieved of my vigil. She never ceases to amaze me with her concerns as when she asks if I had eaten; do I like sinigang na ayungin sa bayabas (the fish was Dad's favorite and the last time I ate the dish was like eons ago, was she kidding?); shall we swim (read: mahjong). So much so that I could not decline her request that I serve as first reader at the 4:30 Mass. And there is my godchild A.K., whose sumptuous squid I breakfasted on heartily, husband Teng and their gorgeous, precocious Gio, who lights up the night when adrenaline drops. Roseville is aptly named for the beads of love and mercy its residents tirelessly trickle down to the trodden and tragedy-struck.
Even those who have moved out of Roseville, when they got wind of it, trooped back to the village to share our grief. Jeffrey and Aidalyn had their youngest Jeaida Mavis (Jeff came back with his buddies, notable of whom was JB, laden with Empi funnies to crack up drowsy Sunny, Marie and their companions; Ernest and Nora Byars; Lito and Leni Samson.
Speaking of Roseville returnees, Pareng Nelson takes the cake. He came with wife Cherry and son Marc. And an icebox laden with a liter of Alfonso, bottled water, ice and glasses. As soon as they have paid courtesy to Steve, he beckoned me outside and we started to connect the past to the present through chat and shots.
When Dad and Mom passed, I was working abroad and did not rattle that I had to rush home to bury them. I'm the eldest in a brood of three brothers and a foster one, working in Hawaii, who often come to their rescue. It's different now. My volunteer work in a Cooperative gives me enough honorarium to keep body and soul together so Sunny and Marie's coming to me is only meant to mediate between Kuya Eddie and among my family and them. Sunny assumed the task of burying Steve is why he is saddled with having to deal with the high cost of dying. That Marie is mostly supportive does not even come close to alleviating his dire condition. Therefore, Kuya Eddie's coming home on Thursday offered great moral and ecocomic comfort. My family stood by to send additional support should the need arise and did when it did.
Ambeth Ocampo's "Why Not Wear Red" (The Inquirer, May 17) was not an accident. His permission for me to parse it confirmed his article as a harbinger for mine, which already came out on filcatholic.org, and yet another, which is this. Tradition was one of the topics that Lito and I talked about. He nodded when I said I broke a lot of it when I wrote the postscript to Ambeth's piece (and, presently, an addendum at the wake): I wore red for three days; pinned red ribbons on the casket cover; cleaned the venue; walked the mourners to the door; and perhaps I will break many more beliefs during and after cremation, where most customs will surely emerge.
When Marie's relations came, they occupied the parlor in the very same manner Kuya Eddie's family did later. The only difference is that Marie's kins played the regulation card game while mine libated pale pilsen. Those were only the three instances when I broke off from the general gathering to be with them.
Mareng Cristy happily told me we don't have to arrange for a requiem with the St. Peter's Chair Parish. The guest priest of the 4:30 pm Mass will bless Steve afterwards. Fr. Linus did exactly that with Sunny, Marie and me sprinkling holy water on his casket. That the priest hailed from Camsur made him kindred.
Counselor Jopine thanked Ate Lorie for dropping by and asking her to condole with us and donate some food items. She only got wind of Steve's passing through her; she met Sunny in the morning without the latter giving a clue. Ninety-three-year-old Nanay Jasmin was in our huddle, a little hard of hearing but gamely sharing with us her colorful past. Giving us pause to our silent grief to revel at her nonagenarian spright.
The final night of the wake gathered the entire Digma Clan around Steve. While charging my celphone, I laid on his death bed for the last time, not intending to nap or sleep, just to rest a bit, but the nine-day stretch took its toll and I dozed off until my phone rang – Sunny waking me up so that I may not miss the ultimate assembly. All the children were there, sleepy, sharing what sentiment they could muster of the situation, staying.
Saturday left to usher in Sunday's morning. Sleepless but not without list, I surveyed the small surrounding that served as Steve's sanctuary for nine days. The safety that I shared as I paced and sat and stood alone with his body and my thoughts. Thinking became a luxury, heightened by thoughts that compelled to be transferred to my ipad, day after night after day. Until, mercifully, mourners would break the train.
Pareng Regie preempted my anxiety over the two-piece pingpong table that he and I borrowed from Mareng Lita (whose daughter Norie prayed over us one night) by rolling them one after the other back to her garage. Parengs Bong and Raymond's electric scooters, our reliable errand transports for the duration of the wake, were busily going hither and thither ferrying people and paraphernalia in preparation for the trip to the crematorium. Marengs Iteng, Joana and Lenlen were marshaling their kins and the kids (captained by ubiquitous JB) to clean up the place as the funeral crew dismantled their equipment before loading Steve's body onto the hearse. It was the third time to bury our dead: Dad, Mom and now Steve. I told Mareng Iteng how I felt and she shared it.
On the way back to the house, Pareng Boy and Mareng Malou hollered and waved at me to join their family lunch on a table spread on the street across from their house and beside Sunny's. I could not – did not – hesitate. They also asked Sunny and Marie to join us; the two were expecting me to dine with them and did without me. The banquet changed me. I shed what money I had the night before through drinks and tong-its. Lunch with this family (who always stood by us up till this third tragedy) made me feel like a king. I still had this thought when I could no longer find a red shirt to wear so settled for my royal blue UCC uniform. Kingly.
When the convoy commenced the long-short trip to the Centennial Garden, I heard again, for the last time ever, Steve's first karaoke song that shocked me, Gintong Araw. It was a jolt again, one that I already geared up for, so the impact was not sad, just solemn.
At Phoenix Memorial Chapels, where we took his body for cremation, there were 21 mourners without a gun salute, half of whom were children, whose innocent chatter shadowed all the significance of any salute, powder-powered or man-executed. Before they gurneyed Steve's body into the crematory, I bade it my final farewell prayer. Priestly.
They apologized for not staying for the burning and it was understood. Mareng Cristy had to tend to granddaughter Aki, who had dengue; Pareng Raymond was driving them home in the van (Pareng Regie with them); Manang and Manay Cely wished me a safe trip back to BF; Tata and daughter Nicole left behind Magno; Pareng Bong scootered away with his nieces; Mareng Malou hugged me twice insisting tearfully that I take care. I never forget love even if the remembrance if it is repeated in a sad situation.
At 4:05 pm, Sunny pointed to us on the floor of the crematory lounge a rainbow reflection of the glass doors, telling us (Pareng Rolly, Mareng Minya, Mando, Marie and him) that while Steve's body neared complete burning, God showed us a seven-colored prism indicating that even before Steve's body returned to ashes, his soul has already found favor with Him. I noticed the G-shaped design on the walls of the crematory, His signature. Prophetic.
Crematory crew Cris called us to view the tray of light ashes that were, more than two hours ago, Steve's body before it was entered into the furnace. Then he gave to Marie two pieces of emerald bones from Steve's knees. Marie asked me to keep one.
On the way to Balibago Complex, where I will get my bus ride back to normalcy, Pareng Rolly said he'll take the five of us (Steve's ashes in a marble urn included) to Jollibee, their despedida, to coincide capping the ten-night send-off for Steve, with their trip back to America on Wednesday. I thought it too apt for any coincidence to describe. A kiddie place in place of pagpag. Children, again, to underscore the celebration of Steve's liberation.
When the mortician was retouching his face, I had an urge to touch him, if only to make the sign of the cross on his forehead, but I recalled the feel of cold steel the first time I felt a dead body, and I didn't want to remember Steve coldly. So before Cris deposited his plastic-bagged ashes into the urn, I touched it and it was warm. And the prayer I prayed before he was wheeled off to the burning room pulsed back to me, his acknowledgment that he was peacefully back to His bosom, where he (and all of us) ought to be.