EVER HIS COMIC self, Rev. Fr. Albert Poblete did not waste the opportunity to disclaim my introduction of him. Essentially, his concern was where I picked up German as one of his spoken languages. Ate Marivic was quick to respond that I got it from his CV which his Secretary emailed to her. Thankfully, no one sneezed loud enough to merit a Gesundheit! so the Capuchin Priest was mollified.
Thereafter, he zoomed in on his subject, St. Francis of Assissi. In 1219, he said, the Saint went to Egypt (through the backdoor of Muslim territory) in an attempt to convert the Sultan to put an end to the conflict of the Crusades. That visit to the Muslim world had far-reaching consequences since, after the fall of the Crusader Kingdom, of all Catholics, it would be the Franciscans who would be allowed to stay on in the Holy Land and recognized as its "Custodians". To this day, the Order of Friars Minor (OFM) is very much visible there, a living testament to the Saint's friendship with the Sultan.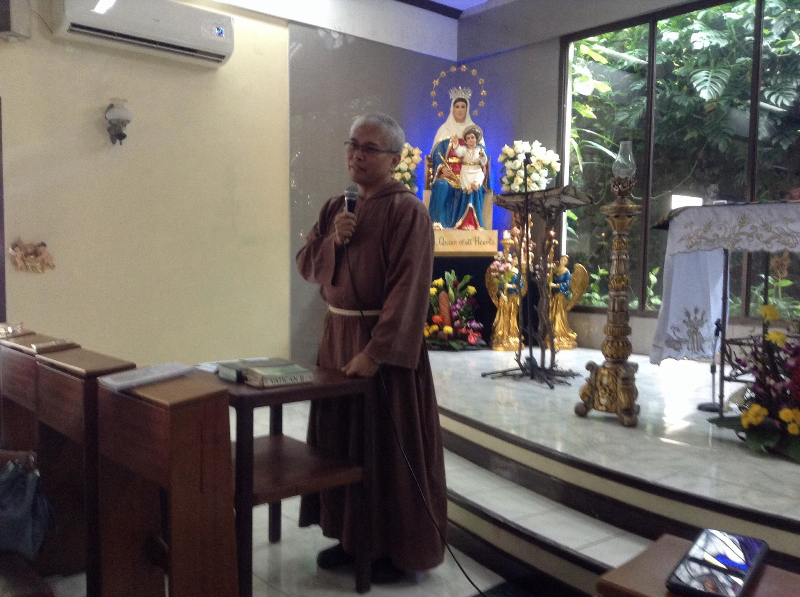 Fr. Albert likens the OFM (or Franciscans) to other orders which emanate from the same wellspring that guides the Church, Christ's life. For St. Francis, the Blessed Virgin Mary was Mother, Advocate and Queen. St. Francis honored her as mother and loved with an unspeakable affection the mother of the Lord Jesus Christ for, as much as that, she had made the Lord of glory our Brother, and that through her we have obtained mercy. Fr. Albert said he cannot understand when Christians say they are but do not believe in Mary. Which is saying that Mary did not have a role in salvation. Because if Jesus did not have a mother, the story would be different. He bemoans this disbelief because if only they did, our personal and communitarian relationships would be enhanced. He conjectures that they are probably hesitant because they prefer to love only Christ. But he posits that we cannot love Mary more than Christ loved her, for that would be impossibly heretical and idolatrous. Wistfully, he cited Stella Maris as close to his heart, and painted for us a full moon as perfect for fishing time, because the Star of the Sea guides the fish to swim upstream for the fishermen to catch them. Aren't we all sea voyagers, he mused, guided by Mary, the teotokos (God-bearer), Mother of God/Redeemer, Temple of the Holy Trinity, hindi nga lang umaabot ang ating level of consciousness. How ironic, he said, that the Iglesia ni Cristo is called that but is steeped in Aryanism, not Christ. He was thankful, however, because our explicitation of Church is similar to the Franciscans: one, holy, catholic and apostolic. He urged that "Let us be like Mary in mothering, listening to Christ, acting on His Word, virgin made church". And he joked that Mary was at the last supper, though no account of it exists, because she took its picture. Cute, I chuckled.
She was certainly there at Pentecost, said he, the new Eve, witness to the descent of the Holy Spirit. As he said that the Eucharist is Christ's daily incarnation (alongside us if we're similarly situated), he recalled St. Francis as the first to conceptualize the belen tradition. His nativity imagery reflected the scene in traditional paintings. He used real animals to create a living scene so that the worshipers could contemplate the birth of the child Jesus in a direct way, making use of the senses, especially sight. It was beautiful in its simplicity, with the manger acting as the altar for the Christmas Mass.
He added that even if Adam didn't sin, Christ would've come just the same, not as a redeemer but as a revealer of the Father. The stand of Franciscans is, as human, Christ mirrors man, is more wholistic, so we do not embrace the cross without Christ, as there is no Easter without Good Friday.
After the much heavily-hinted-at break, he brought back the Last Supper as all right without Mary because, after all, the twelve apostles were there to represent the tribes of Israel. Francis was a man of peace, he continued. While the popular "Make Me a Channel of Your Peace" was not his original composition, St. Francis nevertheless stirred enough souls by preaching the Christian doctrine that the world was created good and beautiful by God but suffers a need for redemption because of human sin. He believed that all creatures should praise God and the people have a duty to protect and enjoy nature as both the stewards of God's creation and as creatures ourselves. Many stories that surround his life say that he had a great love for animals and the environment. He believed that nature itself was the mirror of God. He called all creatures his "brothers" (as in sun) and "sisters" (as in moon) and even preached to the birds and supposedly persuaded a wolf to stop attacking some locals if they agreed to feed the wolf. His deep sense of brotherhood under God embraced others and he declared that "he considered himself no friend of Christ if he did not cherish those for whom Christ died".
Which brought the Recollection Master to an evidently dear insight. He recalled that in his trek to the hills of Quezon with Dumagat guides, they would pass by banana trees teeming with ripe fruits and he noticed that the Dumagats took only one each for themselves. He asked why, when there were so many, did they pick only one. They said they were leaving some for the others, men and animals, who would pass the mountain trail.
Obviously moved by their selflessness, he turned serious and took us back to the film he showed earlier "A Throw-away Culture" and asked: When we empty our closets with excess clothes, do we give them away out of love, or unuse? Not allowing us to answer, he asked us instead to pray, that for the sake of integral ecology, let religion and science reconcile to be one in heaven with God. Don't let us leave hell on earth, he concluded, but life.