by Meanne M. Mijares
It will soon be Father's Day, come June 18 and it has been eight years since my father passed away last June 13, 2009 on the Feast Day of Saint Anthony de Padua. I have been seeing a lot of marketing campaigns about Father's Day as of late more so when it is fast approaching. There are greeting cards, gift catalogues like the perfect fountain pen, necktie, men's shirts, fragrances (oh he loves those), dinner plans spread all over traditional media and of course the internet. I used to get excited about it together with my mom and sister as we plan special surprises for Daddy to make him happy and laugh but now it is difficult and challenging as those perpetual marketing campaigns are like little knives and daggers stabbing us front and back because of the fact that he is no longer with us. Honestly, they magnify his absence leading to grief that is just as fresh as if he only passed away yesterday. It's like an emotional roller coaster ride.
During the month of June, there was a point I began to gnarl at those retail shops and hotels and then ask them if they have the perfect gift for a deceased father? Let me ask you, what greeting card or gift did you last give him? Was it funny, serious, or too mushy? Did he keep it? Did you tell him how much you love and appreciate him? Did you do enough? For us he kept all our gifts, letters and greeting cards and cherished them. He never fails to show his appreciation because he knew we did the best we could.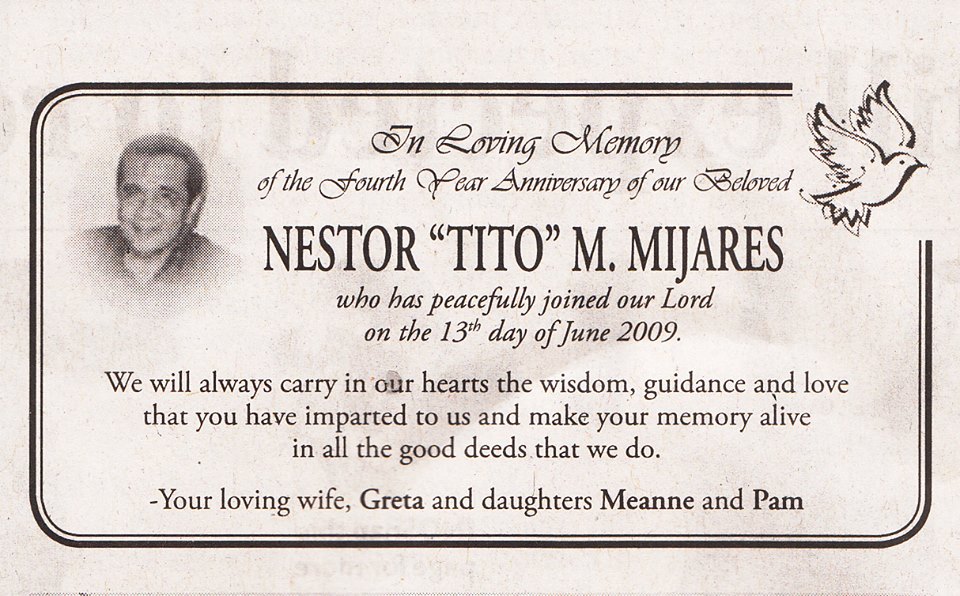 Losing my father was a shattering life changing experience because my sister and I were close to him. My mother was so heartbroken. During the early years without him we feel the loss was so huge most especially when it is Father's Day or his birthday, even Christmas Eve, Christmas Day, New Year's, or Valentine's Day or even our own birthday celebrations and parties when he used to be very hands on in planning to make us happy and how it makes him really smile to see us delight after every surprise. But we didn't cease to celebrate Father's Day just because he is no longer with us.
The planner in me is ignited with a few simple ideas to share with you to help those who are fatherless make Father's Day a memorable one still:
Keep his legacy alive.
I have brides and grooms who have lost their fathers even before they could tie the knot. I always encourage them to honor their fathers' memory by lighting a memorial candle by setting aside a small part of the reception program before they started on the cake cutting and wine toasting ceremonies after they had made their grand entrance as newlyweds. It never fails to move the hearts of their families and friends without shedding tears (only a little) then the joyous celebration of their new life together commences. But there are clients who opted not to and of course, it is understandable.
On Father's Day, write a post on social media or invite your father's friends to a get-together (whether formal or casual have it-your way). Have all of his favorite food and music to enjoy throughout the day. You may wish to request them to come with a memorabilia of your father or a story on how he has touched their lives and his loving gestures and affectionate ways or funny anecdotes or expressions. Then after the get together is over, compile them into a memory book or album or a slide show audio visual presentation (movie maker style) tag your invited guests so they can see it and be amazed. A balloon release ritual can be done by using his favorite color and tying pieces of paper containing the event highlights so your father can read it in heaven once it reaches him. Like say, "Your cousin Auntie Jing laughed at the joke you told her when you were in college. It still left her in stitches!" By sharing these heartwarming memories your family, guests and you yourself will realize that you are not the only one who misses him. One of the best ways to healing is by remembering and reminiscing about the good happy times. Remember your father; remember the sorrow, the love, and the lessons only he was able to teach you. Cherish the time you were able to have with him and heal with the memories.
Write him a letter. Or make a Daddy Diary Series.
If you love writing as I do, this is one of the best ways to express your love and feelings to your father long after he is gone. Why not tell him about what has been happening in your life. Share important family news and photos. Give Dad an update on Manny Pacquiao's fights. Did he enjoy politics? Then discuss what's going on in Marawi or Resorts World Manila. What was your dad's favorite teleserye or CNN program? Give him an update. Write about your feelings. Let him know how you are handling your grief and how family and friends are treating you during this sorrowful journey. Was your father ill before he passed? Ask him for a sign that he's whole in heaven. If you have a favorite photo of him keep it nearby as you are composing your letter. Talk to him, tell him how much you miss him and how you wish he could be a part of all the wonderful things in your life. Believe me, he's always listening. Writing can be a therapeutic exercise for the grieving. As you are writing, pray and ask God for comfort and healing. Always ask for the Lord's comfort. He can bring you a sense of peace that no one else can. Father's Day only happens once a year, but God is with you every day-always!
Thank your mother.
Exodus 20:12 says: Honor thy mother and father. And Ephesians 6:1–2, ESV. (See also Colossians 3:20) — Ephesians 6:1–2 (ESV) says, "Children, obey your parents in the Lord, for this is right. " Honour your father and mother" (this is the first commandment with a promise), "that it may go well with you and that you may live long in the land."
We honor the memory of our deceased parents by respecting them even in death, giving them the assurance that we will not forsake the surviving parent. Just as they cared for us, we will likewise care for them. Perhaps one of the best ways to celebrate Father's Day when your father is no longer around is to celebrate and honor your mother. Your mother is doing her best to perform dual roles, she deserves to be recognized. My sister and I may have lost our father, but our mother lost her most beloved and cherished husband, the man who played an important role in raising us well and helping her out. Take into full consideration that your very own mother is probably feeling your father's absence on this day as well. She is now handling everything alone without any gaps or glitches, continuing to love you unconditionally and offer you praise and appreciation. There are never enough opportunities in life to celebrate your mother for all her sacrifices. This is the best time to shower your mother with some extra love, care and respect that she truly deserves on Father's Day might have a tremendous impact on her. It will surely make your father in heaven happy as well by taking care of the woman he has only loved to nurture and cherish you as she doubles her efforts to look after you with him no longer around.
Show care and concern for the environment. Plant a tree in your father's honor.
If your mother is still alive, and she has room in her backyard consider planting the tree there. If you have space in your yard, you can also plant the tree there. When my father was still alive, he bought a small coconut tree from Manila Seedling Bank in Quezon Avenue. But we had to cut it down 6 years after he died because there was a strong typhoon. My mother was afraid that it might fall under our roof and cause damage to our house. Try selecting a tree that fits your father's personality. My father loves the coconut tree because it is the tree of life. He grew up in Masbate seeing many of it for his family owns a coconut farm. In the future my mom, my sister and I plan to buy a dwarf coconut tree that keeps on bearing fruit since we love fresh white buko meat and water just like Daddy. If you are not exactly a fan of coconut trees and looking for any beautiful tree that grows quickly and provides shade. You may wish to have a tree planting ceremony in your home. Invite family and friends over to gather and recite a few words as they share their favorite memories of your father. After placing the tree in the ground, ask each guest to toss a handful of dirt into the ground and quietly say a prayer before you finish planting the tree. You could also keep a few chairs and a table by the tree and spend time talking to your dad and praying to and for him each day. If you do not have the space to plant a tree in your own backyard, find a local nonprofit, hospice, or church and donate a tree. This is an excellent way to spruce up your community in upholding your father's memory.
Volunteer on Father's Day.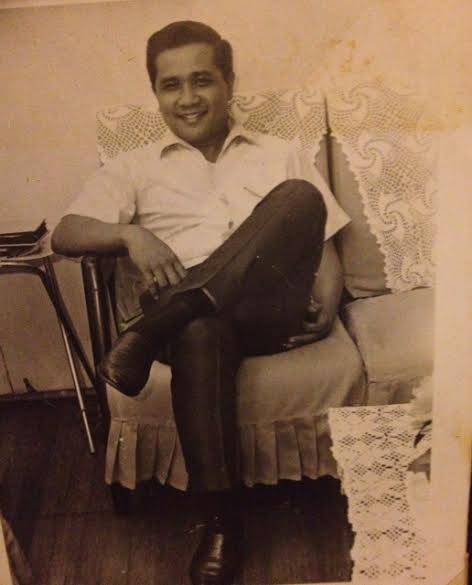 My father passed away due to cardiogenic shock and diabetes complications. If your father died after a lingering illness, take time to volunteer at a local hospital, nursing home or church. Your actions big or small will have made a difference in someone's life. By spending time with someone in a nursing home you are showing them that they are not alone. A quick game of checkers or scrabble or cards with an elderly patient will give them a radiant smile that will last all day. Was there a doctor or nurse who took excellent care of your father? Perhaps you want to visit their office to thank them and bring them you father's favorite dessert. If you traditionally took your dad out for a meal on Father's Day, gave him a gift or just spent the afternoon with him watching sports, consider brightening the day for another father by doing the same for him. Make a donation in his name to a nonprofit organization dedicated to your dad's particular illness. If there is a forum on diabetes in any local hospital organized by support groups, I would gladly give a talk on how our family coped with it and reach out to diabetic patient and their families as well. While your father is definitely irreplaceable, your actions are a gesture of love and kindness in his memory that will make him smile from heaven and be proud of the son or daughter he raised up in the love and fear of God.
My only hope is that may you put these simple celebrations to practice and make it a part of your family traditions.
This Father's Day your old man may no longer be able to open up a card or a gift from you, but it is important to recognize that you are not celebrating Father's Day without a father because he is always in your heart-alive. He is with you in the twinkle in your eyes and the comfort of your hugs. When you feel the warmth of the sun on your skin, know it is your father's smile as he watches you from heaven. He is with you when you reach out to help others and give sound advice. A father's unconditional love, kindness and wisdom are things that can never be taken away long after he is gone. Our fathers never really leave us. We are a special part of them, and they are forever part of us. The love you have for your father doesn't fade after he passes.
Remember, the word "father" is characterized and recognized with love, care, guidance and support. That kind of love does not fade after our fathers pass on…because the truth is, our affection blossoms as we mature, evolve and transform. And so our love for them. We have loved them in this life, but more so now they are in the eternal after life.