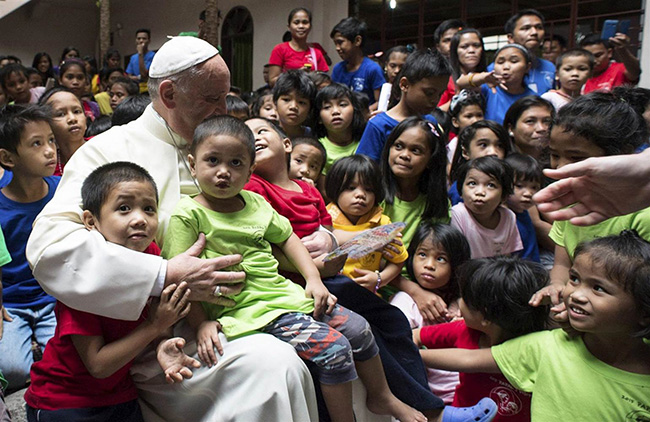 By Meanne M. Mijares
"In these days, throughout my visit, I have listened to you sing the song 'We are all God's children"
These were the words said by His Holiness Pope Francis about the song We Are All God's Children, popularized by inspirational diva Jamie Rivera, who wrote the lyrics. Noel Espenida created the melody.
The official theme song of the Pope's recent apostolic visit to our country two years ago made waves and earned many raves. We have been hearing the song a few months before Pope Francis set his foot in our land.
We heard it again during the meeting of families at the Mall of Asia Arena, the youth encounter at the University of Santo Tomas Football Stadium and the final mass at the Quirino Grandstand with more than 6 million people in attendance.
I like this song best because it embodies the main theme of the papal visit: mercy and compassion. Musically, the arrangement and lyrics are simple and easy to memorize not to mention the melody is hummable, if there is such a word. I was impressed with the birit- free sentiments or images that goes with over-all impact of the entire song. It sounded even more heavenly with the voices of the Hail Mary the Queen Children's Choir.
It assures listeners of the calmness, truthfulness and security of being God's children and share or channel the good vibes with others. It is a song that will inspire us to be more merciful and compassionate to other people that we encounter in our lifetime. It also reminds us who we truly are in God's eyes and what we stand for. We should not measure our worth and dignity in material things, in people we deal with, in monetary terms and the like. It is a song with a gentle but powerful message that will inspire us to take up and reclaim our identity and identify, connect with others.
Apart from that, the Pope's message included one he has talked about many times: empathy.
He is encouraging us that being God's children and members of His family, we should treat one another like brothers and sisters most especially by being compassionate and merciful to the least of His brethren. All of us are truly God's children and there is no exception. Let us always remember that.
"We are all God's children
We are all the same
He is calling us by name
To help the poor and lame
And learn what life is really for,
It's to know and love and serve the Lord."
–Jamie Rivera, We Are All God's Children
Young people, he said, especially need extra care. "Jesus himself needed to be protected," he said.
Our Lord Jesus Christ came to us as a child with a complete family with God the Father, His Mother the Blessed Virgin Mary, His foster father Saint Joseph and God the Holy Spirit. His life was always in danger making the Blessed Mother and Saint Joseph very much worried about His welfare.
If our Lord Himself needed to be protected, so is our youth. They should be protected by providing them sound advice, good, quality education and proper guidance so that they will not go astray in their journey to God's heart.
"We too need to protect, guide and encourage our young people, helping them to build a society worthy of their great spiritual and cultural heritage," he said.
The papal visit song "We Are All God's Children" and the messages of Pope Francis delivered in his encounter with the youth in University of Santo Tomas (UST) last January 18 were not written, sung and said for naught. It has somehow stirred many of us to make a difference in the lives of children most especially those who are living in the streets. By being God's children, we help street kids reach their full potentials. It may probably (through synchronicity) have a hand in guiding our solons to create a bill so timely and relevant. I laud the move made by lawmaker siblings Rep. Rufus Rodriguez (2nd district, Cagayan de Oro) and his brother Abante Mindanao party list Rep. Maximo Rodriguez, Jr., for coming up with House Bill 1440 that provides the establishment of crisis centers for street children in all cities and municipalities in Metro Manila and in every highly urbanized city nationwide where the proposed crisis centers shall have a comprehensive program for homeless children that will provide assistance such as temporary shelter, medical, emergency and feeding programs and basic education. This bill truly deserves our full support for its legitimization and an immediate push in the House of Representatives because it will help provide street children the means to elevate their plight and equip them with livelihood and technical skills and empower them with social skills, according to the bill's creators. I believe that through the creation of these crisis centers, they will be at par with and will no longer be lagged behind by other children ("Crisis centers for street kids pushed," Philippine Daily Inquirer Metro 5/21/15)
Our youth and children are the future of our nation so we should help them reach their potential by using their gifts and talents for the greater glory of God.
A society worthy of their great spiritual and cultural heritage will be in order should we warn them of the perils or threats that could endanger them like drugs, alcohol and the like, its cause and effect that it will have on them if they are not cautious enough.
By having a society with a great spiritual and cultural heritage we glorify God who always brings out the best in each of us, simply because we are all His children and He unconditionally loves us and cares for us!