KUYA JUN WAS as persistent as an exquisite dandruff itch I could no longer make any excuse to negate his (the nth) invite. My only reason was economic but he so assured me it was of no moment that I was pushed to my humblest limit. Quickly I texted my wife for reinforcement; she answered in the affirmative. My pledge of reciprocation to him and his jolly (if tolerant) staff was that I'll cook my signature laing (taro leaves) dish. I heard in their eyes a collective Yay!
The faithful were up at the crack of dawn, assembly time being 3 am. They certainly included me, hardly having had a shut-eye, for I had to buy ingredients, attend a TTJ session afterwards, and cook the dish before hitting the sack. The chore was actually a cinch; it was the posting of my daily thought and Gospel Germs that kept me further up. Although, truth be told, I was, like probably most of those joining the tour, excited. Anyway, before we took off, Fr. Percy asked to meet with us in church for a prayer of blessings on our visita iglesia in the north. Then all happily boarded the three buses and three vans that made up the convoy.
In our bus (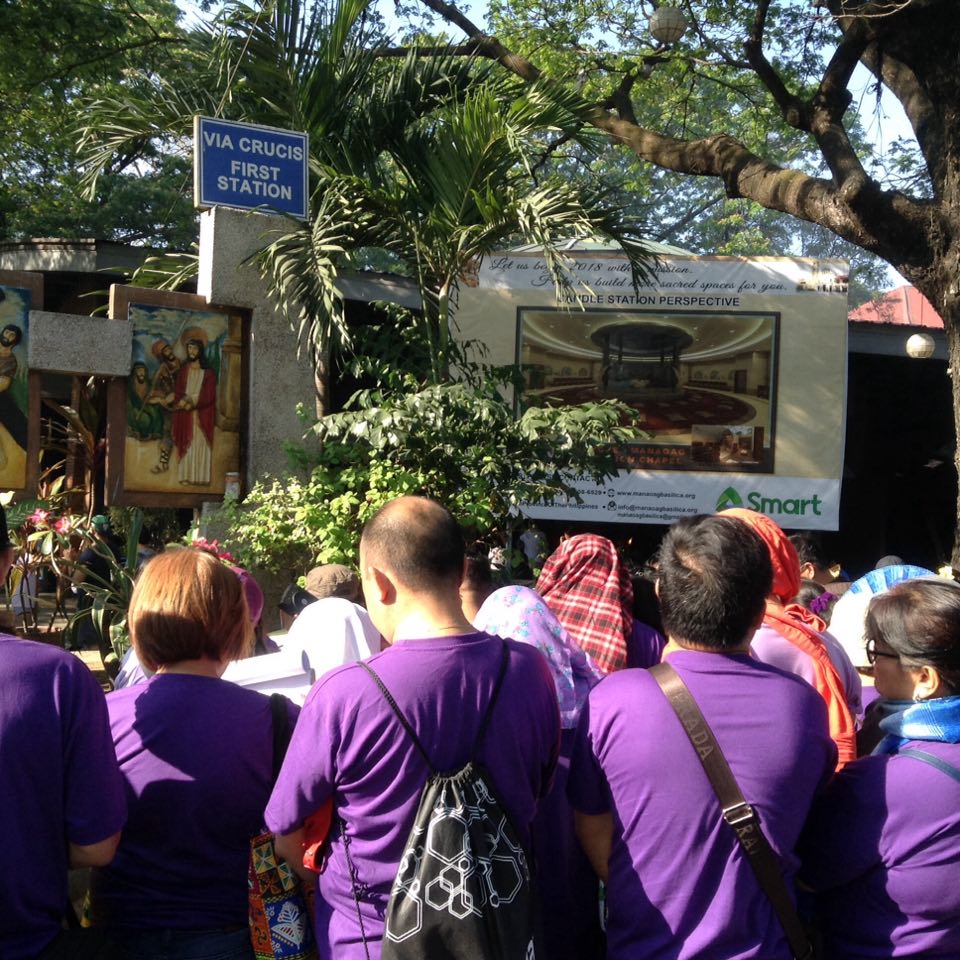 number 1), Ate Ester made us settle comfortably through an opening prayer for a safe trip before letting Kuya Jude lead the rosary (I commended the seminarian later for sounding like a priest already). When he finished, animated chatter picked up.

Manaoag, Pangasinan, was our first stop. Bus number 3 had a breakdown and would not be forthcoming for some time. Saddened, Fr. Percy prevented us from that preoccupation by being productive: he asked us to start the Way of the Cross (1 to 3) in the grounds outside the minor basilica.
I've been to the shrine more than twice, the two times when we conducted a PREX outreach class. While all my visits to the place had a holy goal, this time was different. It felt like we owned the goal's "holiness." Because Fr. Percy celebrated the 8 am Mass. And I thought my voice was louder than his during the singing of "The Our Father." One could tell he was in his element when he sang the final blessing in his melodious tenor. A feat he rarely exhibits except during inspired moments.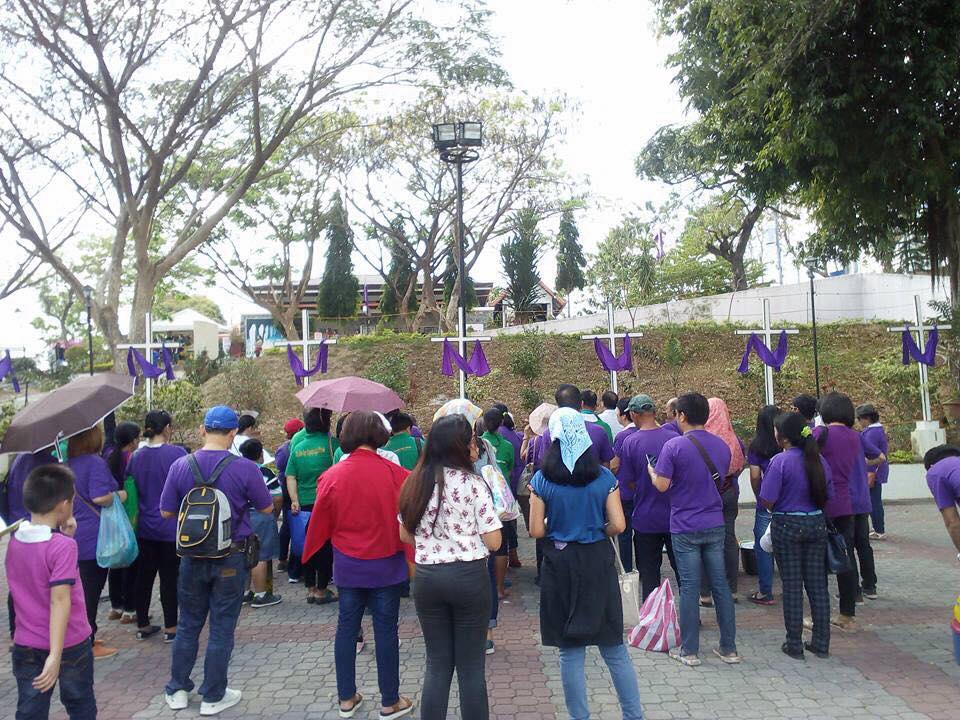 His homily was about Jesus coming from Galilee, without an educational background, and the good things He'd been doing, which the elders and spiritual leaders in the synagogue poo-poohed like those who still do nowadays, they who are humahadlang dahil kulang sa pananampalataya. "That is why," he said, "we are here, para sa paglalakbay so that paggising sa maaga, simple lang, naniniwala pa rin sa Diyos upang kumonekta uli sa Kanya."
It was heartening to see two women among the lay ministers administering the Body of Christ. Why not? I smiled to myself, since it was the temple of His mother. Therefore, I thought further, it invoked her Son's Gospel of inclusion. My smile broadened. 
Having had the morning benediction, we separately scouted for places to have breakfast: back on the bus (for the comfort of air-conditioning); on benches, and some in the cafes scattered about the church. Ate Irene and I devoured what's left of the snack packs distributed by the FIDES staff earlier (buoyed by absent Ate Flor Alerta's share); we were mutually baon-less, save for my ginataang laing. We both knew, however, that we were energized by food supplements, thanks to 4Life.
Back on track, it was my first time to set foot on Monasterio de Tarlac, reputed to be a tourist destination on top of Mount Resurrection, where a collossal 30-foot statue of Christ oversees the city. It was hard not to be awed. Clearly, the sculpture was a gift returned by the receiver to its Giver. I would've been swayed by the asides (the trip was long, the road winding and never seemed to end, the bus "groaned" going up) but Kuya Ben was reassuring having been there several times. And Ate Irene was wonderfully conversational all the while.
On our way up, we passed by interchanging topographies of settlement, wasteland, field, river, and land that made us wonder how life treats those who chose to live the hard life (in spite of a few comments on the serenity of country living). As if to admonish us, there were signages that disputed our thoughts: one that said, "God speaks to us in silence;" and another t
hat advised, "Experience God in this place." They were not put there by accident. They were there to confirm God's presence. We were properly reprimanded.
The surprise that we weren't prepared for was that the caretaker opened the locked chapel that housed the relic of the True Cross for us to kiss. And as if miracles do not cease, indeed, we were later allowed the use of the Bishop's Hall, where we had a most convivial lunch. Before that, however, Ate Irene accompanied me back to the bus, where I had to get our viand, while I texted Ate Mhona to wait up. She had a shawl to protect her from the sun, I rather enjoyed the "sacrifice." For it was soon rewarded with my FIDES lunch mates with praise for my hot dish. I went around to share it; I was not disappointed Ates Sol and Jackie partook of it. Kuya Ben, not hungry yet because of a heavy snack, asked me to spare him some; there was enough to even share with Ate Ester. Their satisfaction extinguished all the discomfort of sleeplessness.
Energized, therefore, there was no excuse to continue our Via Crucis from stations 4 to 7 in the sun-soaked quarangle. No one seemed to mind. Not even the class-picture-taking in the noonday heat.
Later, how fitting that our pilgrimage started from Our Lady of the Rosary Church and ended in Nuestra Señora del Pilar Parish, San Simon, Pampanga, both dwellings of Mary, spouse of our patron St. Joseph. (From Mary to Mary, with Christ sandwiched in-between, we traveled from grace to grace.) Again, we did not feel like strangers at all because we were met by Ate Baby (who really returned to her hometown to fête us), San Jose's parishioner, lector, commentator and many more, whose welcome was warm, verbal, physical and munificent.


As soon as we were assembled in the church, we completed stations 8 to 14 and gave pause in preparation for Mass. We really owned the place this time because our PREX Choir sang to a purely hometown (twice Ate Baby's) congregation. Fr. Percy never strayed from his environment and celebrated the Mass like the summit celebration that it was.
Afterwards, the banquet that Ate Baby and her townmates tendered for us I sum up in a one-liner: God provides. Fr. Percy thanked her profusely and equally apologized to the passengers of bus number 3 and appreciated that they were uncomplaining and unharmed, God being good and all the time.
Indeed, no matter the getting lost, the scorching weather (I was meant to forget Ate Irene's and my umbrella), my ipad's burnout (Kuya Ben's powerbank help also didn't last), and my attendant anxiety of not being able to write about it, interchanging grace and thanksgiving pervaded throughout the pilgrimage. Up until we were back on the bus and after Ate Evelyn's rosary. When Kuya Ben asked us what was our evaluation of the experience, no one seemed willing to share so he was obliged to go first. From him, to Ate Gloria, and Ate Gamay, Ate Manda, then Manay Letty, to reluctant Gelo, Ate Irene and me, the word "blessing" was not only a mouthful, it was also heartfelt. Perhaps as deep as the sleep that claimed the passengers after he bade us all to do it.
*San Jose ang Tagapagtanggol Parish
ABRAHAM DE LA TORRE